Apple Ordering Screens of 'At Least 4 Inches' for Next-Generation iPhone
The Wall Street Journal reports that Apple has placed orders for screens measuring "at least 4 inches diagonally" for the next-generation iPhone, marking a significant increase in size over the displays used in every iPhone model released to date.
Apple Inc., which is expected to launch its next-generation iPhone later this year, has ordered screens from its Asian suppliers that are bigger than the ones used in iPhones since they debuted in 2007, people familiar with the situation said.

Production is set to begin next month for the screens, which measure at least 4 inches diagonally compared with 3.5 inches on the iPhone 4S, the latest phone from Apple, the people said.
Apple is reportedly working with LG, Sharp, and Japan Display (the newly-merged display businesses of Sony, Hitachi, and Toshiba) on the new screen.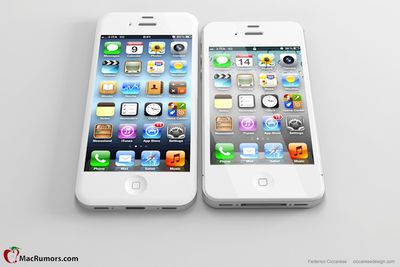 Rendered mockup of taller iPhone with 4-inch display (left) and iPhone 4S (right)
The Wall Street Journal
's report does not specify what aspect ratio the larger display will use, and other rumors have conflicted on whether Apple will
maintain the existing ratio
or
increase the screen's height
while keeping the width consistent with existing models.
Update: Reuters has filed its own report making similar claims, although one of its sources seems more firm that the screen will measure 4 inches diagonally, as opposed to the "at least 4 inches" reported by The Wall Street Journal.
Apple Inc plans to use a larger screen on the next-generation iPhone and has begun to place orders for the new displays from suppliers in South Korea and Japan, people familiar with the situation said on Wednesday. [...]

The new iPhone screens will measure 4 inches from corner to corner, one of the sources said.