Last November, it was reported that an iPhone 4 had experienced self-combustion onboard an aircraft that had just landed in Sydney, Australia. The incident gained a fair amount of attention for the apparently dangerous situation it caused and existing concerns over occasionally overheating of iPhones and other devices, although those incidents are usually related to charging malfunctions.
ZDNet.com.au now reports that Australian government officials have concluded their investigation into the incident, determining that the device's battery had been punctured by a lost screw that made its way inside the device during a screen replacement procedure performed by an unauthorized service center.
The phone was sent to the Australian Transport Safety Bureau (ATSB) as part of an investigation into the matter, which has now revealed that a misplaced screw punctured the battery casing, leading to a short circuit that caused the battery to overheat.

The screw that caused the issue was the result of a botched screen-replacement job from a non-authorised service centre. A screw from the bottom of the unit, adjacent to the 30-pin connector, found its way into the handset, and caused the battery compartment to puncture as a result.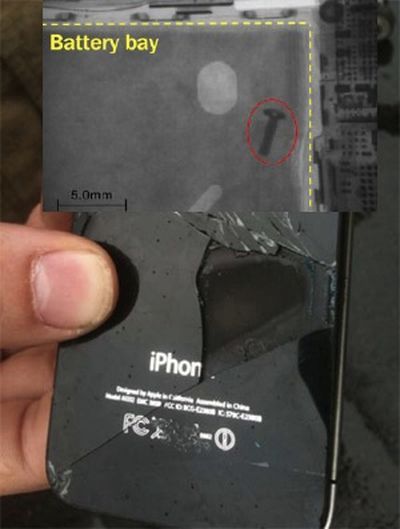 X-ray of loose screw inside battery bay (top) and photo of damaged iPhone (bottom)
None of the aircraft's passengers were injured in the incident, which reportedly saw the device emitting dense smoke and a red glow, but it did highlight some of the dangers of carrying electronic equipment with powerful high-density lithium batteries on airplanes.