Revised iPad 2 with 32-nm A5 Offers 15-30% Greater Battery Life
Last month, it was discovered that Apple quietly tweaked the 16 GB Wi-Fi iPad 2, equipping the device with a smaller 32-nm die shrink of the A5 system-on-a-chip previously used in the line. The tweaked iPad 2 carries an internal identifier of "iPad2,4", which was first spotted in an iOS 5.1 beta back in November, but at the time it was unclear what the model represented.
A similar die shrink of the A5 was found in the new Apple TV, and it appears that Apple made the move in order to test out production of next-generation chip processes in lower-volume devices. The A5X used in the third-generation iPad continues to be based on a 45-nm process.
Anandtech has now gotten its hands on one of these new iPad 2 models and subjected it to a series of battery life and performance tests, finding that the revised model offers identical performance to other iPad 2 models but with battery life improvements of 15-30% in several benchmarking tests.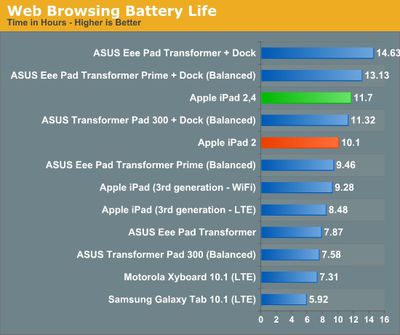 Assuming Apple didn't change any fundamentals of its microarchitecture, the iPad 2,4's gains in battery life can be attributed directly to the process. The gains themselves are significant. We measured a 15% increase in our web browsing battery life, a nearly 30% increase in gaming battery life and an 18% increase in video playback battery life. Although Apple hasn't revised its battery life specs, the iPad 2,4 definitely lasts longer on a single charge than the original iPad 2.


Unfortunately, Anandtech notes that there appears to be no way for customers to ensure that they receive one of these revised iPad 2 models for their $399 purchase, as there are still a significant number of the original iPad 2 models in circulation and they can not be distinguished based without opening the box and turning on the device.