Apple's Share of Tablet Market Surges to 68% as Kindle Fire Shipments Plummet
IDC today released its data on worldwide tablet shipments for the first quarter of 2012, revealing that despite a quarterly drop in iPad shipments of over 20%, Apple's share of the tablet market rose to 68% from last quarter's 54.7%. Apple's boost came at the expense of Android-based tablets, most notably Amazon's Kindle Fire which appears to have seen its shipments collapse from 4.8 million units in the fourth quarter of 2011 to less than 750,000 units last quarter.
"Apple reasserted its dominance in the market this quarter, driving huge shipment totals at a time when all but a few Android vendors saw their numbers drop precipitously after posting big gains during the holiday buying season," said Tom Mainelli, research director, Mobile Connected Devices at IDC. "Apple's move to position the iPad as an all-purpose tablet, instead of just a content consumption device, is resonating with consumers as well as educational and commercial buyers. And its decision to keep a lower-priced iPad 2 in the market after it launched the new iPad in March seems to be paying off as well."
Amazon had surged into second place in the tablet market during the fourth quarter with a 16.8% share of the market as the Kindle Fire debuted in the United States. But while IDC did not report a number for Amazon's first quarter shipments in its press release, it did note that Amazon's share dropped to to "just over 4%" in the total tablet market of 17.4 million units, yielding shipment volume of roughly 700,000-750,000 units for Amazon.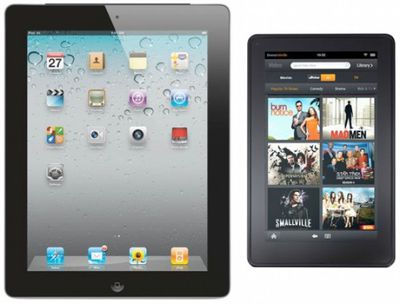 As a result of Amazon's decline, Samsung was able to regain the second position in the tablet market, ahead of Amazon, Lenovo, and Barnes & Noble. Amazon's slide also comes as mass retailer Target yesterday announced plans to discontinue the sale of all Kindle devices and other Amazon- and Kindle-branded products.
The overall tablet market grew 120% year-over-year, but the 38% quarter-over-quarter decline was even steeper than expected coming off the strong holiday quarter. Apple obviously has a significant influence on the overall tablet market given its dominant position, and the company did ship slightly fewer than expected iPads during the quarter as consumers held off on iPad 2 purchases ahead of the new iPad's launch and Apple experienced some supply constraints when the device did launch with just three weeks left in the quarter.