The critically acclaimed Deus Ex: Human Revolution has finally arrived on the Mac, after being promised in September of last year. Unlike some games released for the Mac recently, Human Revolution was just released for PC and consoles last summer. Some game titles new to the Mac were originally released as many as 6 years ago.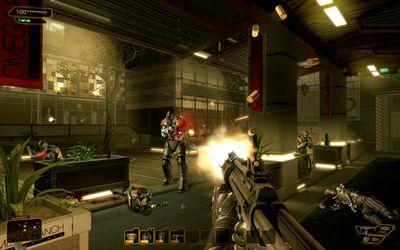 When former SWAT commander Adam Jensen is forced to undergo cybernetic augmentation, he discovers that the boundary between man and machine is a point of no return. Uncover the truth behind a global conspiracy in a first-person role-playing game where you must combine combat, stealth, hacking and social interaction to determine the course of human evolution.

In a world where amoral corporations market biomechanical modifications and those who protest against them are silenced, only those who adapt survive. Discover the true potential of your augmentations and manipulate Adam's body into your perfect machine.
The Mac version of Deus Ex: Human Revolution already includes the 'Missing Link' downloadable content pack, the Explosive Mission and Tactical Enhancement expansion packs, a 44-minute "making-of" documentary, a 40-page book of design and concept art, motion comic, a soundtrack composed by Michael McCann, and three trailers.
The game weighs in at more than 15 gigabytes and does not support any of the following graphics cards: ATI X1xxx series, ATI HD2xxx series, NVIDIA 9400, NVIDIA 7xxx series, NVIDIA 320M, Intel HD3000 and Intel GMA series.
Deus Ex: Human Revolution - Ultimate Edition is available for $49.99 on the Mac App Store. [Direct Link]