New Dedicated Apple Product Displays Showing Up at Walmart
ifoAppleStore shares some photos of a newly-revamped Apple product display section in an Arkansas Walmart store near the retail chain's headquarters. Coming with dedicated wood display surfaces and lighted signage, the new displays mark a distinct improvement over the previous Apple product displays that had simply been integrated into existing display shelving.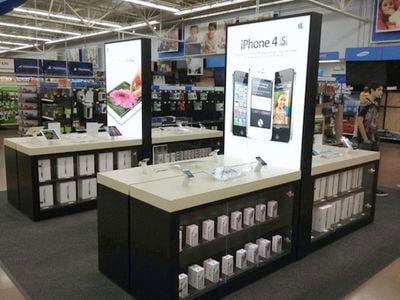 The displays feature tall, double-sided, back-lit graphics, a clean-looking wood table, live display products and under-table accessory storage with security glass. The new look updates previous Apple product displays within Walmart stores that have been notoriously small, invisible and poorly maintained.
Walmart has long been a close retail partner with Apple, and the company has served as a launch-day source for a number of high-profile Apple products. The chain was even the first store to begin selling the new iPad in many locations in the United States, with a number of the company's stores offering select models of the device at 12:01 AM local time on launch day, eight hours ahead of Apple's own retail stores.


Apple has been rumored to be partnering with Walmart to bring store-within-a-store concepts to the retailer's Sam's Club warehouse stores, and it seems that the companies are also at least exploring expanding their partnership in the more plentiful Walmart locations. Apple has also committed to bring 25 dedicated Apple shops to Target stores, signifying the company's interested in expanding its presence at mass market retailers with a broader reach than its own retail store network.