Production of 7.85-Inch iPad Reportedly Moving Closer as More Suppliers Named
Digitimes has been one of the biggest sources of rumors regarding a potential "iPad mini" carrying a 7.85-inch screen that the publication says Apple is targeting for release later this year. Digitimes now points to a new report [Google translation] from Taiwanese newspaper United Evening News making similar claims and outlining a number of companies making up Apple's supply chain for the device.
According to the report, Apple will be utilizing Pegatron as its assembler for the device, forgoing its main partner Foxconn for this project. Apple and Pegatron do, however, have a long-standing relationship with the assembler already contributing to iPhone production and rumored at several points to be involved in iPad 3 production as well.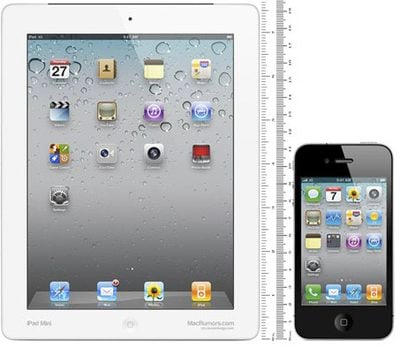 Mockup of 7.85-inch iPad next to an iPhone
On the display side, the report claims that LG Display will be responsible for 70-75% of the workload for the smaller iPad, with AU Optronics handling the remainder. Samsung, which is a key part of Apple's supply chain but with which Apple is currently engaged in a massive patent dispute, has reportedly been shut out of display production for the new device. The report also claims that Radiant Opto-Electronics and Forhouse will be contributing backlight components for the 7.85-inch iPad.
The newspaper had previously named LG and AU Optronics as display suppliers for the device, claiming in October that Apple was planning to launch the smaller iPad early this year. The Wall Street Journal weighed in last month with its own claims that Apple was working with those companies on the project, but noted that there is no guarantee Apple will ever release the device.