Apple Enhancing Apple ID Safety by Enforcing Security Question Requirements
The Next Web reports that Apple has begun enhancing the security of users' Apple ID accounts, requiring those who have do not have alternate email addresses and security questions on file to add them.
In the past 24 hours, Apple appears to have started prompting iOS devices owners and those with Apple IDs within iTunes to make their accounts more secure, requiring them to pick three security questions and enter their answers when they download a new app.

The company is also asking users to enter a backup email address, in order to better protect their device but also their account (which is tied to Apple's Retail website and all of its media services).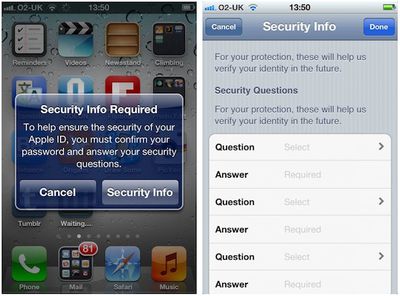 Hacking of iTunes Store accounts has been a long-standing complaint from a number of users, but with over 225 million user accounts, they make for a popular target for phishing, brute force hacking, and other methods. The company has occasionally taken steps to improve account security such as last August's addition of confirmation emails when content is purchased from a previously-unused device, and the company undoubtedly evaluates its security practices on an ongoing basis.