Apple Sending Confirmation Emails To Combat App Purchase Fraud
Apple has begun sending emails when AppleID's are used to make purchases on iOS devices not previously associated with the account. It is likely these emails are being used as one way to combat increasingly frequent app purchase fraud.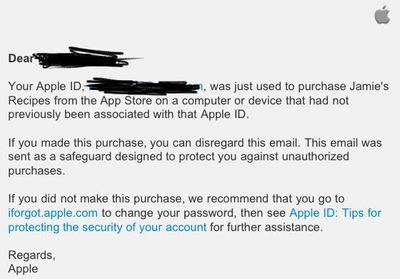 MacRumors reader Michael had his iPhone replaced at an Apple Retail Store. After the first App Store purchase on the replaced phone, he received the above email. The email doesn't require confirmation of the purchase, but is instead a simple notification that a new device has been used and requests the user change their password if they don't recognize the activity.
Apple already requires credit card users to reenter the 3 or 4 digit CID number from the back of their credit card (front in the case of American Express) to authenticate the new device, however users with balances from iTunes Store Gift Cards aren't required to perform any special authentication other than entering their AppleID password.