Apple Clarifies Warranty Coverage Options for Customers in European Union
Late last year, Apple was fined $1.2 million by Italian regulators over its marketing of AppleCare extended warranty services for its products. The regulators ruled that Apple was not adequately disclosing standard two-year consumer protection coverage available under European Union laws. Apple last week lost its appeal of the ruling, although another follow-up hearing is scheduled for early May.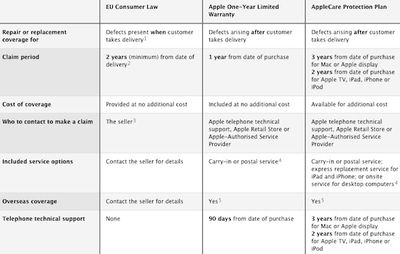 In an effort to inform consumers about the differences between Apple's standard warranty coverage, AppleCare, and EU consumer protection laws, Apple has posted information pages on many of its localized sites for customers in European Union countries. Among the differences between Apple's standard warranty and the EU's statutory warranty requirements:
- Apple's warranty is good for one year, while EU protection lasts for two years.
- Apple's warranty covers defects that arise at any time during the warranty period. EU protection laws generally require consumers to prove that a given defect was present at the time of product delivery.
- Apple's warranty coverage applies only to Apple products. EU protection laws require sellers to support any products they sell, so the EU coverage would apply to both Apple-branded products and third-party products sold by Apple.
Apple's document also provides a number of links and clarifications to help consumers understand exactly what is covered by each warranty layer, enabling them to better determine whether AppleCare extended warranties might be a desirable addition to their purchases.