Apple's 25 Billion App Download Contest Winner Flown to Beijing for Award Ceremony
Earlier this month, Apple announced that the winner of its 25 billion app countdown contest was Fu Chunli, a resident of Qingdao, China who was awarded an iTunes Store gift card valued at $10,000. Her milestone download was Disney's Where's My Water? Free.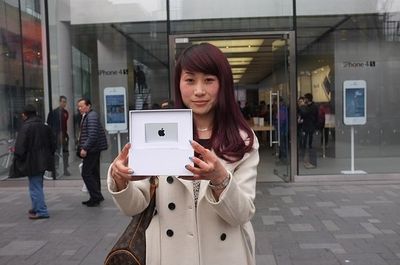 Fu Chunli shows off her $10,000 iTunes Store gift card
M.I.C. Gadget now offers profile
of the winner, summarizing Chinese-language reports noting that she had only been an iPhone user for a month at the time of milestone and had been unaware of the contest until she was contacted by Apple.
Fu Chunli was not a big fan of Apple, and had only purchased her iPhone for about one month, still learning how to use the App Store. She didn't know anything about the competition until she was contacted by Apple. When she received a call from staff at Apple (China), she thought it was a hoax. She was still confused when a friend told her that she received a prize from Apple, but did not believe her luck until she saw an email from Apple Inc.
The reports note that Chunli was invited to visit Apple's Chinese headquarters in Beijing last week, having been flown to the city at Apple's expense. Following a visit to corporate headquarters, she visited the company's Sanlitun retail store where an award ceremony was held to present her with the gift card and conduct interviews with the media. She also received training on her iPhone and the App Store and took the time to test drive some of the other Apple merchandise in the store.
Apple has been making a major push into China, with the company expanding its distribution reach there and working to build Chinese-focused features into several of its products in an effort to strengthen the appeal of the company's products there. Just today, Apple CEO Tim Cook was spotted at the Xidan Joy City retail store in Beijing as he visited the country to meet with undisclosed officials.