Another New iPad Surfaces in Hong Kong with Sample Video and Graphics Benchmarks
Following yesterday's unboxing video of the new iPad in Vietnam, which has also resulted in benchmarks and sample photos and screenshots from the device surfacing, Hong Kong's PCM Online reports (via Engadget) that it too has gained early access to the new iPad.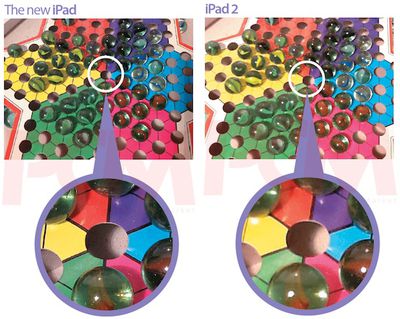 Still photo comparison from new iPad and iPad 2
PCM
's device is a white 16 GB 4G model, and the report includes a number of photos and benchmarks of the device comparing it to an iPad 2, as well as a video highlighting a number of features of the device and containing a sample video shot with the new iPad at the end of the clip. The new iPad's video quality from the rear camera is obviously superior to that of the iPad 2, but still suffered from a bit of overexposure in
PCM
's sample clip.
Benchmarking the graphics performance of the new iPad also showed significant improvement over the iPad 2, with benchmarking tests boosting performance from 90 frames per second (fps) to 140 fps in the GLBenchmark 2.1.1 Egypt offscreen test and from 146 fps to 250 fps in the GLBenchmark 2.1.1 Pro offscreen test. Similar data had previously been
uploaded to GLBenchmark's site
, although its authenticity has not been confirmed.