Sample Photos and Screenshots from 3rd Generation iPad
Vietnamese site Tinhte.vn has been spending some more time with the 3rd Generation iPad in their possession.
They took some screenshots of the native apps that come bundled with the new iPad that support its new Retina screen. This is a screenshot from iPhoto (click for full size):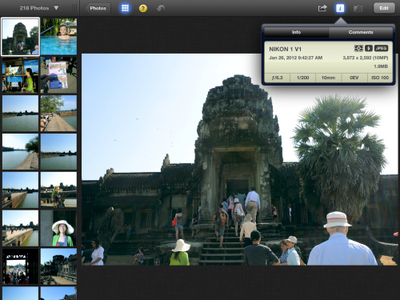 The sizes of these Retina-enabled apps appear to be about 2.5-3x the size of their original counterparts.
These applications are developed by Apple has been upgraded to support the Retina screen, for example with Keynote (iWork software sets), this application previously only 115MB capacity but its latest version is 327MB. Numbers from 109MB or 283MB up to, from 95MB to 269MB Pages, iMovie from 70MB to 404MB.
Existing iPad apps are automatically pixel-doubled to take up the full screen on the new iPad, but appear noticeably less sharp than native Retina graphics.
In a separate post, they took a number of sample photos using the new iPad's 5-megapixel camera. This represents a significant upgrade from the iPad 2's 1-megapixel camera. One sample shot is included here (click for full size):


The 3rd Generation iPad is officially launching on March 16th at retail stores. The bulk of the pre-orders should also be arriving in customers hands on that day.