Intuit Releases Lion-Compatible Quicken 2007 for Mac
Last December, Intuit announced that it would be developing a version of its Quicken 2007 for Mac software compatible with OS X Lion, targeting "early spring" for a release. Quicken 2007 has remained a popular option for users of personal finance software despite its age, as Intuit opted to deploy a stripped-down Quicken Essentials for Mac in 2010 rather than continuing to update the full Quicken product for Mac. But with Apple's discontinuation of Rosetta in OS X Lion, applications such as Quicken 2007 that had been written for PowerPC-based Macs are incompatible with the latest operating system.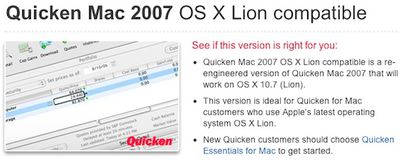 As quietly noted its Quicken for Lion FAQ updated today, the software is now available directly from Intuit. Priced at $14.99, Lion-compatible Quicken 2007 for Mac is available either by direct download or on CD.
Quicken Mac 2005 – 2007 data files will automatically convert into the Lion compatible version. If you're currently running Quicken Essentials for Mac on OS X 10.7 Lion, and have previously converted from Quicken 2005, 2006 or 2007 for Mac, you'll be able to migrate your Quicken Essentials transaction data to Quicken Mac 2007 OS X Lion compatible.
Migration of Quicken Essentials data into the Lion-compatible version Quicken 2007 for Mac is outlined in a support document.
Intuit's lack of support for the Quicken for Mac product line has sent customers searching for alternatives, with a number of other products such as iBank and Intuit's own Mint.com seeing some success in the market, although each of the products offers a slightly different set of features.
Intuit is clearly trying to keep some of its Quicken for Mac customers using the software under Lion, but it is unclear whether the company has a long-term plan to advance a Quicken product for Mac that offers features beyond those found in Quicken Essentials. Given that even the Quicken 2007 for Mac page recommends that new Quicken users opt for Quicken Essentials, it appears that the company is still planning to push the stripped-down Essentials package as its primary Mac offering for at least the time being.
Thanks, Marck!