Intuit Debuts Rebuilt Quicken Essentials for Mac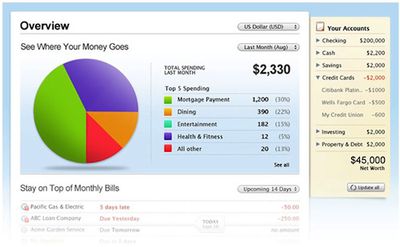 Intuit today
announced
the release of
Quicken Essentials for Mac
(QEM), a complete rebuild of the company's personal financial management application.
QEM launches a new era for Quicken on the Mac. It marks Intuit's first Mac-native application for Quicken, that is, a product developed specifically to run on a Mac operating system, instead of adapting a product originally designed for a PC. QEM's features serve a broad array of essential customer needs, focusing on quick set-up, ease-of-use, and Mac-like intuitiveness in design and workflow. The redesign reflects the influence of the Mint.com product team and its deep experience with Apple products.
Walt Mossberg offers a review of the new Quicken, finding "seriously mixed feelings" for the update. Mossberg notes that the application now benefits from a true Mac look and feel, along with updated data conversion from Windows versions and more banking interface options. QEM, however, also feels to Mossberg like a stripped-down version of Quicken for Windows and even loses some features that were present in Quicken 2007 for Mac.
Most important, Quicken Essentials doesn't display, or even allow you to enter or edit, individual transactions in investment accounts. It only shows a snapshot of the current status and value of the overall investment account and of the securities or funds it holds. It also lacks a bill-paying feature. And it can't export your data to Intuit's popular TurboTax program. Even the much-maligned older Mac version could do these three things.
Mossberg reports that the Mint team now in charge of the division has conceded that the Mac version is missing some important features and is currently targeted at users new to personal finance software with only basic needs. The company plans, however, to add such features as detailed investment tracking and bill pay to a future update.
Intuit announced in early 2008 that it would be rewriting Quicken for the Mac platform, and was expecting at that time to release the new version later that year. After several delays and another complete ground-up rebuild, Intuit committed last July to a February 2010 release that it met with today's launch.
Quicken Essentials for Mac is available via CD-ROM or direct download for $69.99, or from Amazon for $59.99.