Production of 7.85-Inch iPad Rumored for 3Q 2012 at the Earliest
DigiTimes, which has several times in past addressed rumors of a smaller 7.85-inch iPad, has published a new report today claiming that Apple's manufacturing partners have been delivering samples of the device to Apple ahead of mass production that would start in the third quarter of this year at the earliest.
Makers in Apple's iPad supply chain have started delivering samples of 7.85-inch iPads for verification, with volume production likely to begin in the third quarter of 2012 at the earliest, according to industry sources.
The report suggests that Apple will price the smaller iPad in the range of $249-$299, with a rumored 8 GB iPad 2 occupying a price point at $349-$399. The report also claims that Apple could continue offering the 16 GB iPad 2 at $449 to fill out a low-end grouping below the flagship iPad 3 lineup.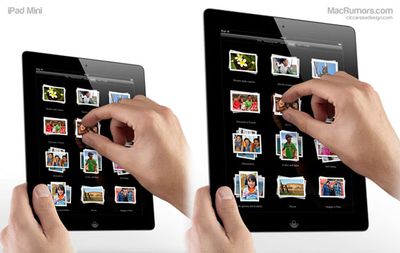 We previously mocked up what a 7.85-inch iPad would look like, creating print-suitable documents to allow readers to test out the size for themselves either on paper or displayed on a current 9.7-inch iPad. With the device rumored to carry the same 1024x768 resolution of the iPad 2 but at a smaller physical size, some user interface elements would become rather small, but primary elements such as icons and the keyboard seem very usable at the smaller size.