Earlier this month, the staff at Munich, Germany's Apple Store Rosenstraße formed a "Betriebsrat" [Google translate] -- an official labor council that focuses on the working conditions within the store.
It's the first such council within Apple's Germany stores... and will deal with issues such as routine overtime, sales pressure from management, high noise levels within the store, and other health and safety matters... Employees will eventually expand the councils to all eight Apple stores in Germany.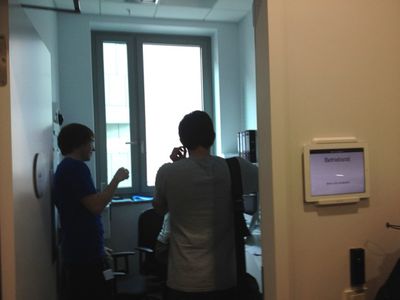 A tipster sent us this photo from within the store, showing the office the Betriebsrat has taken within the store. The office, according to the tipster, originally belonged to the Store Leader. The iPad to the right of the entrance says "bitte rein kommen!" which translates to "please come in!"
The picture appears legitimate, with the circular sign on the door matching those within other Apple Stores we've seen, and the GPS data within the photo matches the location of the Apple Store Rosenstraße in Munich. We have removed the data from the picture for privacy reasons.
Last year, it was reported that Apple Store managers were participating in "union awareness" training, covering the legal dos and don'ts of dealing with unions. While not an actual employee union, the betriebsrat is a legally protected entity in Germany.