Apple in 'Crunch Mode' Lining Up Apps for iPad 3 Demo and Commercials?
Rumors continue to swirl about the iPad 3 launch following yesterday's claims that Apple will be holding a media event during the first week of March for the introduction. The Next Web now reports that Apple is currently said to be in "crunch mode" as it works to finalize its plans for the event.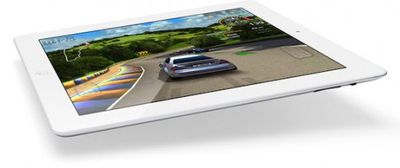 According to the report, Apple is working to pin down select third-party apps to be the featured demonstrations at the media event and in commercials for the upcoming device. Apple is said to be emphasizing apps that will show off the iPad 3's high-resolution "Retina" display.
Our sources tell us that this selection process is continuing at an increased rate as Apple looks to finalize the lineup for the iPad 3. There is also emphasis on graphics-oriented applications with high-definition assets, which appears to be in line with the new iPad featuring a 'Retina' display.

In addition, some apps that Apple is impressed with are being forwarded on to its long-time advertising partner TWBA/Chiat/Day for possible inclusion in the initial iPad 3 commercial spots. This process is entering its final phase as well, with the company on a tight deadline to deliver assets for playback during the presentation and later, television broadcast.
Apple has been known to bring third-party developers to Cupertino in the weeks and days leading up to a major keynote or media event in order to work through presentation plans for demos and ensure that they will run smoothly. One account from the early days of the App Store related Apple's work with a developer to spend a week's worth of 16-hour days at Apple headquarters porting an app to iOS in time for the company's September 2008 "Let's Rock" event, only to see Steve Jobs nix the demo over concerns that it wasn't "fast-paced" enough.