AT&T Says Throttling of Unlimited Data Users Done on Case-by-Case Basis
Last week, a firestorm erupted over the publicization of AT&T policies that can result in users on grandfathered unlimited data plans seeing their data speeds throttled after burning through as little as 2 GB in a month.
Early reports on the policy, which went into effect last October as intended to affect the top 5% of users on unlimited plans, had pegged the carrier as enforcing throttling on customers using in excess of 10 GB, but the limit appears to have been coming down over time. The lower limits have left some wondering why they are continuing to pay for a $30/month "unlimited" data plan that is throttled after 2 GB while AT&T happily sells customers a 3 GB "limited" data plan for the same price.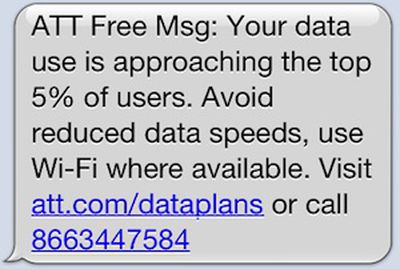 AT&T does note in a support document on its website that that top 5% of data users did average approximately 2 GB per month as of last August, although that number does vary month-to-month and market-to-market.
Data consumption by all customers, including the top five percent of smartphone data customers, varies by month and by market. As of August 2011, the average data use across the country by the top five percent of AT&T smartphone customers was 2GB per month.
AT&T is not, however, automatically throttling users on unlimited data plans once they reach that "top 5% level" in the neighborhood of 2 GB, as The New York Times reports that AT&T only throttles these customers when they reside in areas with shortages of network capacity.
[AT&T spokesman Mark] Siegel said that even if you do exceed 2 gigabytes of data usage and qualify as one of the top 5 percent, that doesn't absolutely mean you're going to be throttled. AT&T will only reduce speeds for the top 5 percent of users in areas where network capacity or spectrum is insufficient, he said. In other words, throttling is done on a case-by-case basis, not based on a hard number, according to AT&T's claims.

"There's a very good chance you wouldn't be slowed," Mr. Siegel said. He added that in the last month, less than 1 percent of AT&T smartphone customers were affected by the policy.
Still, AT&T hasn't addressed observations that "unlimited" data users are essentially receiving less data service than 3 GB "limited" data users are for the same price. While unlimited customers can technically continue to go beyond 3 GB without incurring extra charges as a customer on a limited plan would, AT&T's throttled speeds are generally so low as to be considered nearly unusable by many.
Ultimately, many users of the users still on AT&T grandfathered data plans are viewing enforcement of throttling at 2 GB as primarily an effort to force them into giving up their plans and converting to the tiered plans AT&T rolled out in 2010.