Best Buy Dreams Up a $1499 42-Inch 'Apple HDTV' for Customer Feedback
The Verge reports that Best Buy has been surveying some of its customers on proposed products and services, with the company including a description of a 42-inch "Apple HDTV" priced at $1499. The listing is undoubtedly simply a concept dreamed up by Best Buy to help gauge interest in such an offering, but provides an interesting perspective on what the major electronics retailer might be hoping for and what it thinks its customers would want in an Apple television set.
Be one of the first to get the all new 42" Apple HDTV at Best Buy for $1499. Apple finally reinvents what a TV can do:

- 42" 1080p LED flat panel display
- Incorporates Apple's operating system (iOS) found in its current Apple TV set top box which allows you to purchase and stream movies and other entertainment from the Internet
- Download and use apps from the App Store. Can you imagine playing Angry Birds on a big screen in your living room?
- Supports Apple's new iCloud service for storing your movies, TV shows, and music content that you've purchased from iTunes and beam them to your Apple HDTV.
- Use your iPad or iPhone as a remote control, and do everything from controlling your TV, to purchasing new shows and swapping content between your Apple devices and the iCloud service.
- Built-in convenience with built in iSight camera and microphone for Skype.
- In addition to iTunes, stream content from popular sites such as Netflix, YouTube, and flickr.
- Available for $1499
The promotional text makes no mention of Siri or voice control, which has been rumored to be one of the device's key revolutionary features following Steve Jobs' revelation that he had "finally cracked" how to reshape the way people interact with their television sets.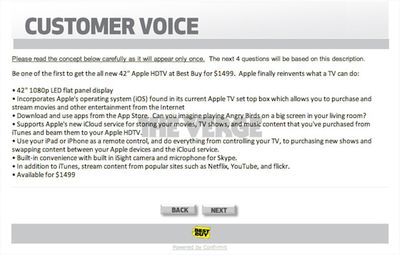 Best Buy's survey questions on the proposed Apple HDTV go on to assess respondents' level of interest in purchasing the product, whether they believe it is new and different and whether it would solve a problem or fulfill a need for them.