Thousands Line Up for New iPhone Production Jobs at Foxconn Facilities in China
Back in late December, reports surfaced indicating that Foxconn was planning a major expansion of its iPhone production capabilities in Zhengzhou, China, with the company reportedly investing $1.1 billion and working with the Chinese government to recruit 100,000 new workers to the facility.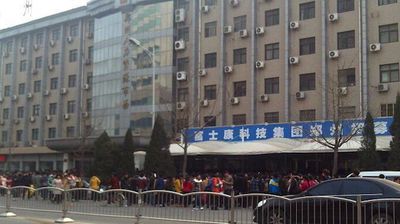 M.I.C gadget now reports that the hiring notices have gone out and thousands of prospective employees have lined up to apply for the positions.
On the 30th of January, thousands of hopefuls stood for hours outside a labor agency located in the Chinese city of Zhengzhou, the largest city of Henan province in north-central China. The lines stretched more than 200 meters along the road, and the people who were waiting in line with their applications just hope to get a job at Foxconn, as the electronics contracting giant ramps up its iPhone production at Zhengzhou plant.
The report cites articles from the Chinese media noting that many of the applicants have prior work experience, with some of them seeking to transfer from Foxconn's other facilities in southern China to be closer to home.
Apple is of course in the middle of booming iPhone 4S sales following the device's launch last October and is now turning its attention to the rapidly-growing Chinese market where the device launched on China Unicom earlier this month and is expected to launch on China Telecom as soon as late next month. The company is obviously also looking ahead to the next-generation iPhone hardware that most expect will debut later this year.
Foxconn and Apple have come under increasing scrutiny over the treatment of employees in Apple's supply chain, with Foxconn being the highest-profile target due to its employment of hundreds of thousands of workers focused on manufacturing Apple products. Apple CEO Tim Cook has expressed concern over some of the allegations presented in recent media reports while also pointing to the company's continuing efforts on the workers' rights front including ongoing audits and outside monitoring of workplace conditions.