Roundup of Analyst Expectations Ahead of Apple's Q1 2012 Earnings Call
Philip Elmer-Dewitt has assembled his list of analyst expectations ahead of Apple's quarterly earnings report Tuesday afternoon. The list includes estimates from 17 "independent" analysts and 34 "affiliated" analysts who work for large investment houses or research organizations.
As usual, the independent analysts are much more bullish than the affiliated analysts. The independent consensus expects earnings per share (EPS) of $12.01 on revenue of $43.14 billion. The institutional consensus is EPS of $10.19 on $39.23 billion in revenue.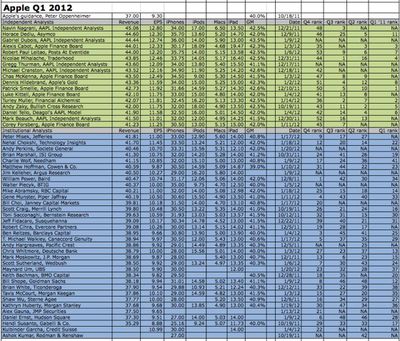 Click through to Elmer-DeWitt's post at Fortune to see the full-size chart.
Last quarter Apple announced it had broken $100 billion in sales for fiscal 2011, the first time it had breached that figure, and posted $6.62 billion in profit on revenue of $28.27 billion. For the first fiscal quarter of 2012, Apple has issued guidance of $37 billion in revenue with profits of $9.30 per diluted share.
Apple's best quarter ever was fiscal Q311 when it posted $7.31 billion in profit on sales of $28.57 billion. It appears Apple will solidly beat those numbers this quarter, posting its best results ever.
Apple will announce its earnings for the first fiscal quarter of 2012 (fourth calendar quarter of 2011) and host a conference call regarding the release on Tuesday January 24th at 5:00 PM Eastern / 2:00 PM Pacific. The earnings release itself typically comes in around 4:30 PM Eastern.