Apple to Announce 1Q 2012 Earnings and iPhone 4S Sales Numbers on January 24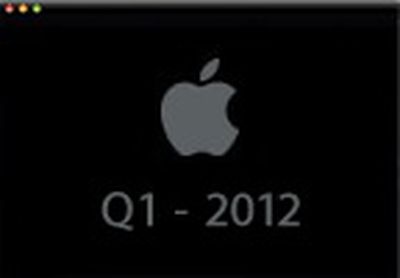 Apple early today updated its investor relations page to officially state that it will announce its earnings for the first fiscal quarter of 2012 (fourth calendar quarter of 2011) and host a conference call regarding the release on Tuesday, January 24.
Apple's conference call webcast discussing Q1 - 2012 financial results will begin at 2:00pm PT/5:00pm ET on Tuesday, January 24, 2012.

Please note that comments made during this call may include forward-looking statements that are subject to risks and uncertainties, and that actual results may differ materially from these forward-looking statements. For more information on the factors that could influence results, please refer to Apple's SEC filings.
The conference call at 5:00 PM Eastern / 2:00 PM Pacific will follow the earnings release itself, which typically comes around 4:30 PM Eastern. MacRumors will provide running coverage of the earnings release and conference call.
The highly-anticipated results from a holiday quarter that also saw the launch of the iPhone 4S follow the company's typically conservative guidance that has already pegged the quarter as a blockbuster with predicted revenue of $37 billion. The company is also predicting all-time record iPhone sales as industry sales estimates have been pointing toward a similar record for Mac sales.
iPad sales are also expected to be strong with a record number of sales likely, although there have been some concerns that Amazon's Kindle Fire may have tempered iPad demand slightly. Finally, while iPod sales have been slowing over the past few years as customers have continued to shift toward smartphones for their music player needs, the holiday quarter remains the company's strongest by far for iPod sales due to their popularity as lower-priced gifts without expensive service contracts associated with them.