Apple Records Q4 2011 Earnings of $6.6B on $28.3B in Revenue, Tops $100 Billion in Sales for Fiscal 2011
Apple today announced financial results for the third calendar quarter and fourth fiscal quarter of 2011 -- plus the full fiscal year. For the quarter, Apple posted revenue of $28.27 billion and net quarterly profit of $6.62 billion, or $7.05 per diluted share, compared to revenue of $20.34 billion and net quarterly profit of $4.31 billion, or $4.64 per diluted share, in the year-ago quarter. Gross margin was 40.3 percent, compared to 36.9 percent in the year-ago quarter, and international sales accounted for 63 percent of the quarter's revenue. Apple now has $81.57 billion in cash and marketable securities.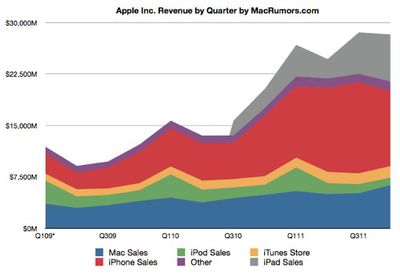 For the 2011 fiscal year, Apple reported revenue of $108.25 billion and net profit of $25.92 billion, or $27.68 per diluted share, compared to revenue of $65.23 billion and a net profit of $14.01 billion, or $15.15 per diluted share, in fiscal 2010. Gross margin for the year was 40.5 percent, compared to 39.4 percent a year ago. Apple's yearly profit and revenue were company records with Apple reporting more than $100 billion in yearly revenue for the first time ever.
Apple shipped 4.89 million Macintosh computers during the quarter, a unit increase of 26 percent over the year-ago quarter. Quarterly iPhone unit sales reached 17.07 million, up 21 percent from the year-ago quarter, and the company also sold 6.62 million iPods during the quarter, representing 27 percent unit decline over the year-ago quarter. Apple also sold 11.12 million iPads during the quarter, up 166 percent over the year-ago quarter.

"We are thrilled with the very strong finish of an outstanding fiscal 2011, growing annual revenue to $108 billion and growing earnings to $26 billion," said Tim Cook, Apple's CEO. "Customer response to iPhone 4S has been fantastic, we have strong momentum going into the holiday season, and we remain really enthusiastic about our product pipeline."
Apple's guidance for the first quarter of fiscal 2012 (the holiday quarter) includes expected revenue of $37 billion and earnings per diluted share of $9.30.


Apple will provide live streaming of its Q4 2011 financial results conference call at 2:00 PM Pacific, and MacRumors will update this story with coverage of the conference call highlights.
Mac sales, at 4.89 million units in the back-to-school quarter were well higher than even the highest analyst expectations, while iPads met expectations. iPods were slightly worse than expected. However, the biggest miss was on the iPhone with 17.07 million units moved, well below the consensus analyst estimate of 19.75 million. Only two analysts underestimated Apple's iPhone sales, with Charlie Wolf at Needham and Chris Whitmore at Deutsche Bank both expecting 17 million iPhone units on the quarter.
Apple missed estimates on earnings for the first time since 2004.
Conference Call Highlights:

- First earnings call since passing of Steve Jobs. "The world has lost a visionary, a creative genius and an amazing human being. Steve was an amazing mentor and inspired everyone at Apple to do extraordinary things."
- Express our gratitude for condolences and expressions of support following Steve's passing.
- New all time quarterly record for iPad and Mac sales. New September record for iPhone sales.
- Strong Mac, iPad and iPhone sales.
- Exceed previous Mac record from past December quarter by 750k Macs, 27% increase over year-ago quarter results. Exceeded PC market by 4x.
- Strong growth in MacBook Air and continued strong performance by MacBook Pro.
- Record Mac desktop sales due to strength of iMac.
- 6 Million Lion downloads in September quarters.
- 3-4 weeks of Mac channel inventory.
- 6.6 million iPods, vs 9.1 million last year. Total iPod sales ahead of Apple's internal expectations. iPod Touch accounts for half of iPods sold. iPod share remains +70% in mp3 market. iPod is top MP3 player in most countries. 4-6 weeks of iPod channel inventory.
- iTunes Store generated 1.5 billion in revenue, new record. 16 billion songs, 650 million tv shows downloaded. Pleased with 180 million sales on iBookstore.
- Pleased to sell 17.1m vs 14.1m YoY, 21% YoY growth, new Sep quarter record. Strong growth in Asia-Pacific, doubled year over year. Expected sales to fall after iCloud and iOS 5 announcement in June. Sales fell over quarter, especially in the second half. 4-6 weeks iPhone channel inventory at end of quarter.
- Opted to defer new carrier and country additions to next quarter due to iPhone 4S.
- 230 carriers in 105 countries supporting iPhone.
- 6th consecutive time Consumer Reports lists iPhone with highest customer satisfaction.
- 93% of Fortune 500 deploying or testing iPhone, up from 91% last quarter. 60% of global 500 testing or deploying iPhone.
- Lists a number of enterprise customers supporting iPhone extensively.
- "Extremely enthusiastic" about Siri. Customers love A5, new camera.
- "Working hard to get iPhone 4S in customers hands as quickly as possible."
- Thrilled with iPad momentum. New record with 11.1m iPad sales, compared to 4.2m YoY.
- Tablet market is huge opportunity for Apple. Very excited for customer enthusiasm and our current performance. iPad launched in 28 countries, distribution in 90 countries total. $6.9 billion in iPad and iPad accessory revenue, up 146% YoY. 2.5 million iPads in channel inventory, up 1.45 million sequentially. 4-6 weeks of inventory.
- 92% of Fortune 500 testing or deploying iPad, up from 86%. 52% of Global 500 testing or deploying, up from 47% last quarter.
- 250 million cumulative iOS devices sold.
- App Store joins 22 more countries during the quarter, 123.
- Retail Stores have very strong YoY growth in Mac and iPad sales, offset by decline in iPhone sales. 1.1m Mac sales vs 874k YoY, increase of 25%. Half Macs sold in retail stores were to customers new to Mac. 30 new stores in the quarter, 21 internationally. Highest opening day for Mac sales ever in Hong Kong. All China stores are highest traffic and among highest revenue.
- 357 stores, 10.7 billion in average revenue per store. 679 million in segment margin.
- Record 77.5 million visitors in the quarter.
- FY 2012: Focus on international expansion for retail. 40 stores in FY 2012, three quarters outside the US.
- Will be expanding or replacing stores in the US that are too busy or too constrained to be effective.
- OpEx - $2.7 billion, $253 million in stock based compensation. 24.7% tax rate on the quarter.
- $81.6 billion in cash and marketable securities, up $5.4 billion from prior quarter. Net of cash paid for Nokia Settlement and Nortel patents.
- Predictions for December quarter will be 14 weeks long, vs 13 weeks normally. Rev to be $37 billion. 40% margin. OpEx to be 3.25 billion. Tax rate to be 24.25%. EPS: $9.30
- Yearly profit up 85% vs 2010, growing faster than revenue growth.
Q&A
Q: Given that the 4S was launched so close to holiday season, what's the confidence in the production and distribution ramp? How to avoid a shortage?
A: Cook: Great start with 4S, sold more than 4 million in 3 days after launch. Confident that we will have a large supply but we don't want to predict when supply and demand might balance. Demand is extremely high. I'm confident that we will set an all-time record for iPhone this quarter.
Q: September quarter dynamic on iPhone? No channel inventory issues?
A: Not entirely. On a sell-through basis, sequential comparison is down 2.4 million units. Inventory reduction this quarter. 2.4 is much less of a reduction than what we were expecting. Large factor in revenue exceeding guidance by $3 billion. Expected drop larger than 2.4 because we knew that anticipation was great for June/July new iPhone because that was traditional pace over last several years. Sell through decline did occur, but not to extent we expected. Significantly beat our guidance. Reduction happened largely in back-half of the quarter as speculation hit extreme highs. Will set a record for iPhone sales in December quarter. In our wildest dreams we would not have gotten off to the start we did with iPhone 4S.
Q: In this quarter you printed 40%+ gross margin, aside from shift from higher margin to lower margin. Why can't you do better than 40% in december given how well the iPhone 4S is doing and favorable component costs.
A: We expect gross margin to be relatively flat on a sequential basis. We do think favorable component cost environment will continue and we have a very strong mix of iPhone, both of which are positive for gross margin. Both of these will be offset by lower price points and higher cost structures, along with the stronger US dollar.
Q: Great insight into Apple's traction in China in the past, can you update? Provide insight into how substantial into how China will impact Apple over time? Could it be as big as the US market eventually?
A: China progress has been amazing. Greater China revenue represented 2% in FY09. In FY11, it accounted for 12%. Look at just Q411, it accounted for 16%. Fastest growing major region by far. $4.5 billion for revenue from current quarter, up 270% YoY. Total revenue for FY11 to $13 billion in China. In FY10, we were just above $3 billion. Growing at a feverish pace.
Placed new retail stores, up to 6 in greater China. Online store opened at end of last year, 200 mono-branded stores (Apple Premium Reseller), 7k point of sale on the iPhone in greater China. How far can it go? I've never seen a country with as many people rising into the middle class that aspire to buy products that Apple makes. It's an area of enormous opportunity. Quickly become number 2 on our list of top revenue countries very quickly. Placing additional investment, more stores and "other things", to continue to deliver our great products to the people of China.
We're also placing additional focus on other areas that have shown great promise, such as Brazil. Brazil up 118% YoY, over $900 million mark this year. Russia is looking more promising, and the Middle East has significant growth opportunity. Several of these markets that Apple has not been strong in where the iPhone has opened up the market. iPad will do the same.
In China, the sky is the limit and I wouldn't discount these other places I mentioned as well.
Q: If you weigh in a little more on Apple's historic strength in manufacturing and supply chain strategies? What's the margin flexibility as you use more than one source for supply and manufacturing chain?
A: Outstanding team in this area and a track record that is unparalleled. Used our balance sheet and always trying to do strategic deals on parts that are very important to Apple across a series of products. As we get larger, there are some areas where we have elected to diversify some. However, our approach has been and will always be to do business with as few people as we can so we can be "very deep" with them and do great innovative stuff. You can't tend to do that when you go out to many different people. They give us great quality and also reasonable prices. That winds up helping our margin.
Q: Amazon recently launched the Kindle Fire with lower price points and limited feature sets. Is this making it more of a hybrid market? Is Apple seeing effects from a demand perspective?
A: We had an outstanding quarter with more than 11 million iPads. Same time, we set a Mac record which is phenomenal in and of itself. We've seen several competitors come to market to compete with the iPad. Some have different form factors or price points. I think it's reasonable to say that none of these have gained any traction thus far. As all of those competitors come to market, our share actually went up. In the June quarter IDC said Apple was responsible for 3 out of 4 tables sold. When you assess this thing, iOS 5 and iCloud and the ecosystem with iTunes and the App Store and books and movies and 140,000 native apps for iPad vs a number in the hundreds for the other guys, I feel very confident about our ability to compete and extremely confident in our product pipeline.
Q: Deferral of new carriers?
A: Opted to defer carriers and countries due to launch of impending iPhone 4S launch. Wanted to launch new carriers with latest products. Had some impact on September quarter. Biggest impact was pervasive rumors in second half of the quarter. Just started selling iPhone 4S, off to a fantastic start. Heading into holiday season with best holiday lineup Apple has ever shipped.
Q: High level thoughts on size of the tablet market? How do you think about how big the market could be in the next few years?
A: Thought from the beginning that it would be a huge market. It has been even greater than we thought. Sold 40 million cumulative iPads. Pretty clear that if you forecast out in time, I believe that the tablet market will be larger than the PC market. There will be many more people who can access it, the ease of use is so off the charts that it's a huge opportunity for Apple across time.
Q: Talk more about the iPhone. Any idea how many units were pushed out and deferred into the next quarter? In general, how should we be thinking about the 4S launch given the pent up demand from the quarter? How does it work into your guidance of $37b?
A: You can't run the experiment twice. We can't tell you with precision with how many units we'd sold if there weren't any rumors. We believe it was substantial. That's why we called it out. Go out and talk to a group of customers and you'll get a good answer.
4S is off the charts. Do a comparison to first 3 days iPhone 4 launch, we sold 1.7 million. This year we sold 4 million. That's the mother of all uplifts. We're thrilled with how we've gotten started and the feedback we're getting from customers is fantastic. Couldn't be more pleased with where we are.
Q: With regard to iPad category, it's not "mature", but with a few more quarters of experience, any thoughts about seasonality in the iPad?
A: Expect to establish new company records in the December quarter for iPad and iPhone. For Macs, would expect to outgrow the PC market on a YoY basis and our 23rd consecutive quarter of outgrowing the PC market.
Q: How do you see Siri in the future? Is this a feature or a bigger change in how consumers interact with devices?
A: Number of people using it already is amazing. The questions and personality that it has, is incredible. We see this as a profound innovation, and over time many people will use it in a substantial way. What percentage of searches? I don't know. It is substantial and is incredible innovation. This is the feedback we're getting from customers.
Q: Supply chain given HDD issues in Thailand?
A: Hearts go out to Thailand as a result of the monsoons and flooding. Like many others, we source many products from Thailand and have many factories that supply these components. Several factories are not operable. Recovery timeline for these factories is not known at this point. As you can appreciate, the weather hasn't allowed an ability to assess those. From the work that we have done, we would say our primary exposure is on the Mac because as you point out, of the number of drives or drive components, Thailand sources a large percentage of those drives. Will be an industry shortage of drives as a result of the disaster. How it will impact us, we included our assessment in the $37 billion number.
Q: Comment on patent disputes, especially with Samsung and other OEMs. What are ultimate objectives on litigation? Get injunctions or royalty fees?
A: Don't want to comment on litigation, it's our policy not to do that. Basically, we spend a lot of time and money and resources in coming up with incredible innovations. We don't like it when someone else takes those innovations. That's why we, unfortunately, have been pushed into the court system as a remedy to that. I don't want to comment about any particular lawsuit.
Q: Generally speaking as a remedy, what kind of remedy do you seek from the court system?
A: That's what we don't want to comment on.
Q: Price reductions in 3GS offering? Dramatically reduced the price $200 in most countries on prepaid offering. How are you thinking about this price reduction regarding elasticity? Targeting a new segment of consumers? How are you thinking about how it will resonate with prepaid vs postpaid customers?
A: Wanted to make iPhone more accessible to a broader market. Not only did we take the 3GS to free on postpaid basis in US, but free in postpay in many other markets as well. We also lowered the price of the iPhone 4 to $99. We've done both of those because as we looked at it, these are still fantastic products and we think we can do reasonably well selling those in the postpay markets. Has an advantage to a lower price in prepay markets, obviously not free or $99, but lower than those markets had previously. Both markets are important to us and its been our thinking for a while to do that.
Q: How do you view component supply demand and pricing going into fourth quarter? Unibody casing given the issues you've had with one of your suppliers in that area?
A: We treat every concern that we hear about our suppliers very seriously. Currently investigating and assessing the situation. We factored our supply outlook as we currently see it into our guidance. In terms of the general market for components, NAND and DRAM which really declined last quarter and LCD, we see all three generally in a positive supply situation. We expect pricing to continue at favorable levels. Most other components we expect at or above historical trends. Generally speaking, it's a very positive market from a supply point of view. Now, that is with the asterisk with the disaster that just happened in Thailand aside. We're not sure how that will shake out, but the risk there is more focused on the Mac portion of our product line.
Q: I know you don't give operating margin or gross margin guidance -- it does seem like we could be moving into a new phase for the company. Fastest growing products could be Pad or lower price iPhones. Would this put pressure on gross margins? Is it still reasonable to think that the company can expand or maintain operating margins if gross margins come under pressure due to product mix?
A: For December quarter, we anticipate gross margin to be about 40%. Having nice leverage on OpEx, having an operating margin of just over 31% which would be quite strong.
We are going to continue to offer the very best products we can, extremely innovative, very confident about what's in the product pipeline, you'll see us being aggressive in the future. What customers want to buy, that's fine as long as they buy from us. We want to gain market share and grow the top and bottom lines.
Q: Where are we in distribution rollout around iPad? Countries and point-of-sale, etc. What do you practically need to do to realize potential in Brazil/Russia/India/Middle East?
A: We are in 90 countries on iPad. We have about 40,000 points of sale around the world. To put that in context, we have 50,000 on iPod and 120,000 on iPhone. There are still countries left to do, but we are in the main countries with iPad. Do I think there was a slowdown on iPad? Where the iPhone numbers, it's crystal clear in looking at the numbers, that there was a slowdown, that is not the case on iPad. Where I believe we are from supply/demand point of view, somewhere in the quarter we entered supply/demand balance and stayed there for the quarter. On the last call, we said we were coming in balance on iPad in a few countries. Some time after that we went into supply/demand balance throughout the world. Look at the share numbers that third parties have reported and we couldn't feel better about how we're doing. The comScore group said that 97% of web usage on tablets in the US is from the iPad. It's mind-boggling. We feel very good about that.
In terms about other countries outside of China, we have already started placing efforts in the places I mentioned. It's not something that we're going to start next week, it's something that we are already doing or we wouldn't have brought it up. We didn't get $900m in revenue in Brazil with no efforts. In some countries there are protectionist efforts where the prices are very high if local parts aren't included. We don't have anything to report there. Basic approach to all countries is same to what we used in China. Just a matter of the rate and pace of a rollout and whether to involve every one of the things we did in China. In China we did everything we knew to do: built retail, went in with online store, built APR channel, built third-party channel, grew advertising. Everything we're doing in the US, we're doing in China. Would not do everything we did in China in those other countries I named, but we will be doing more.
Q: Tablet market maybe being bigger than PC market... discuss cannibalization?
A: We are seeing cannibalization. Some people are electing to buy an iPad rather than a Mac. However, a materially larger number of people are electing to buy an iPad instead of a Windows-based PC. We are overwhelmingly coming out well regarding cannibalization. Despite iPad, Mac had its best quarter by far ever. With best quarter on iPad, we still had best quarter on Mac ever. It's almost unbelievable. With cannibalization like this, we hope it continues.
Q: Any different strategy as far as cash allocation? Share buyback, dividend, supplier investments?
A: Want to maintain flexibility. I think everyone who knows us knows that the cash isn't burning a hole in our pocket. Don't want to do silly things, investing conservatively. Done a very good job in an extremely difficult market. Done things in Apple's best interest. Acquired several companies, acquired intellectual property, invested in supply chain and invested in new stores. What we're doing with cash, the cash we do spend, we're doing an extremely good job and are very frugal.
I'm not religious about holding or not holding cash. I'm religious about other things, but not that. We will continually ask ourselves what's in Apple's best interest and always do what is in Apple's best interest. It's a topic for the board on an ongoing basis and we will continue to discuss it. Of the little more than $81 billion in cash, a bit more than 2/3rds of it was offshore.
Q: Is buying back shares with your cash, is it perhaps a philosophical white flag that you're not able to create value through product innovation?
A: I think that anyone looking at us and our track record would not come to any conclusion that we're waving a white flag on innovation. We've had a series of unbelievable products, the best products of the world according to our customers. We've got a pipeline that's unbelievable.
Q: Would that perception hold you back from buying shares?
A: No. The cash is always a topic and we will always conclude to do what is in Apple's best interest. I believe we've done that so far and if you look at where we spent it, we think you'll agree.
Q: 1% of the smartphone market was seen as audacious when the iPhone launched. Reached 5% in first year. Have you established a similar goal for the next few years?
A: Want iPhone in as many customer hands as possible. We think its the greatest phone in the world. Aspire to greater markets. Think smartphone market and handset market will merge eventually. Huge growth in smartphone market and we think we can also grow within handset market. The big win is to eat into the handset market, not just for us but for others as well. You can tell that with the moves we've made recently.
Q: Will extra week in December quarter impact March quarter at all?
A: Extra week is traditionally a strong week, but shouldn't impact too much. Will provide direction on January call regarding the fourteenth week.
Q: Regarding Japan, in terms of YoY and sequential, there was a bigger disparity between units and revenues in Japan than in other reasons.
A: Huge percentage of Japan's total revenue in the year-ago quarter was the iPhone 4 launch. In a year over year comparison, that adversely affects the comparison. The Mac did a terrific job, growing 44% in a market that's barely growing at all. Did a great job on the Mac side, iPhone was negative YoY compare. Gotten off to an unbelievable start in Japan. It was one of the first 7 countries and Japan is a clear example of the delay we've seen.
Q: Medium to long-term iPad opportunity with ASP -- can you move it downmarket for elasticity or upmarket to take greater advantage of the PC market?
A: Don't want to get into future plans too much. We see the tablet market as a huge market. Could not be happier with our position in it. We've got some fantastic things in the pipeline. 40 million in the first 18 months was more than our wildest dreams and 3 out of every 4 tablets, we've got a fair handle on what to do next.
Q: Expectations around lower price point on iPhone business in emerging markets? Carrier receptivity on the pricing change? Any acceleration in carrier engagements?
A: If you look at the channel inventory on iPhone that was there at the end of Q4 (September 24), that was 5.75 million in inventory. Half of that has already sold through. One portion of things driving that is the elasticity question that you're getting at. We also did, in a very few countries last quarter, we dropped 3GS price a bit early. Particularly in some of the prepay markets, to see what would occur. We were extremely pleased with the results and that gave us more conviction regarding the plan change we made in early October.