Comcast Begins Rolling Out 'AnyPlay' Live TV Streaming for iPad
Back in September, we reported on a leaked document from cable and Internet provider Comcast revealing details on the company's forthcoming "AnyPlay" live television streaming service. While Comcast is not the first cable provider to bring such a product to market, it is the largest cable and Internet provider in the United States.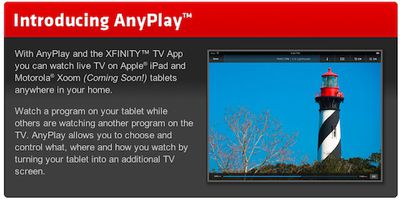 Comcast today announced that it has begun rolling the AnyPlay service out to its customers, beginning with Xfinity HD Triple Play customers in Denver and Nashville. More markets will be added in the coming months, with the service initially launching for the iPad only but joined in the future by the Motorola Xoom.
Here's how it works...the AnyPlay device works the same as any other set top box in the home, but instead of delivering the incoming channel lineup to a television, AnyPlay delivers the lineup to the Wi-Fi router on the home network. The router then distributes the secure video signal to the iPad or Xoom over your home's wireless network. So as long as your tablet is within range of the home wireless router, you can turn it into another television screen.
The AnyPlay service is accessed via the company's existing Xfinity TV app for the iPad, which also offers thousands of hours of on demand movies and TV shows available for viewing both inside and outside of the home.