Comcast
By MacRumors Staff
Comcast Articles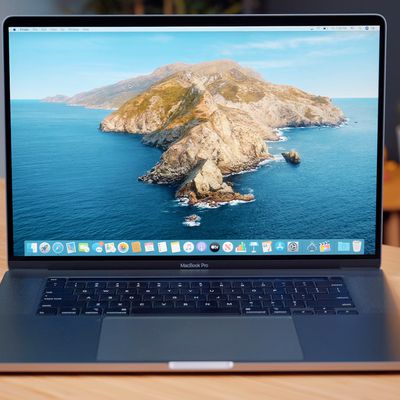 Amid the ongoing COVID-19 coronavirus outbreak in the United States, people are relying heavily on home internet connections for work and school as many employers have asked employees to work from home and schools have canceled classes for the next few weeks. The Federal Communications Commission (FCC) today said [PDF] that major U.S. internet providers, including Comcast, AT&T, CenturyLink, ...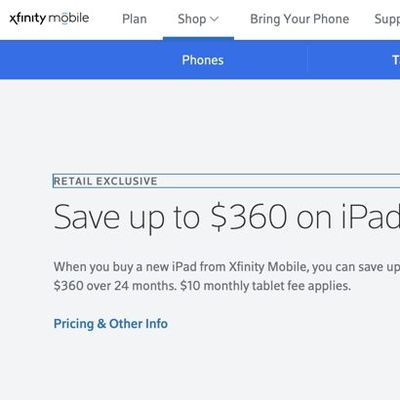 As part of the deal allowing cable companies Comcast and Charter to sell iPhones for their respective mobile services, Apple has required them to also sell large numbers of other devices, reports CNBC. Both Comcast and Charter have wireless services as part of an MVNO agreement with Verizon. Comcast offers Xfinity Mobile with approximately 1.5 million subscribers, while Charter offers Spectrum ...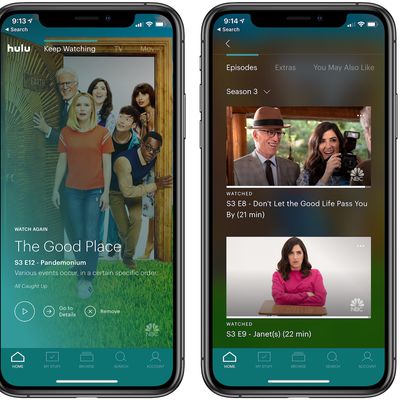 Disney has slowly been acquiring a larger stake in Hulu, most recently thanks to its acquisition of certain assets owned by 20th Century Fox. According to Variety, today Disney has "full operational control" of Hulu thanks to a new deal with Comcast. The deal's terms state that Comcast will retain its 33 percent ownership interest in Hulu through January 2024, after which time either side can...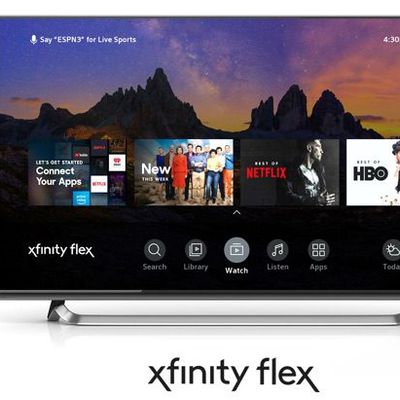 Just ahead of when Apple plans to launch a new subscription video service that will give customers access to bundled cable channels, Comcast has introduced Xfinity Flex, a streaming service that combines video on demand content, ad-supported, free live streaming content, and access to add-on subscription apps. Xfinity Flex is priced at $5 per month and is available to customers who subscribe...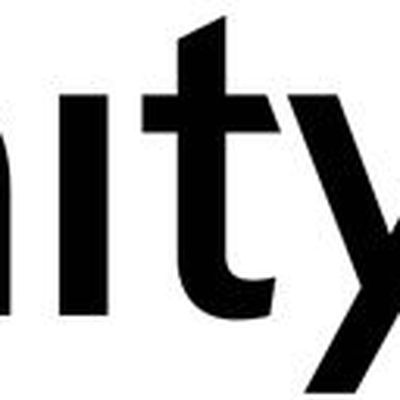 Comcast's Xfinity Mobile service used "0000" as a default PIN for all of its mobile customers, which left them vulnerable to hacking attempts, identity theft, and more. Comcast's decision to use simple default PINs for all of its customers came to light in a "Help Desk" article from The Washington Post included one Comcast customer's tech horror story. Larry Whitted, an Xfinity Customer...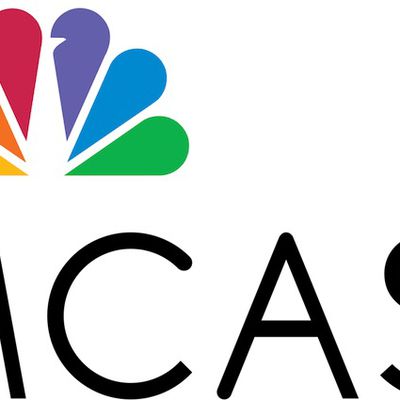 After a summer of back-and-forth bids between Comcast and Disney for select entertainment assets owned by 21st Century Fox, Comcast today confirmed that it is bowing out of the bidding war for Fox. The company says the move is to instead focus on acquiring European satellite TV provider Sky, another much-sought-after entertainment company that is seeing interest from the likes of Comcast, Fox,...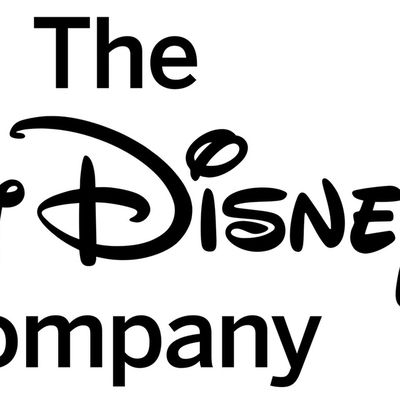 21st Century Fox and the Walt Disney Company today announced a new deal that increases the value of Disney's original December 2017 offer from $28 a share at $52.4 billion to $38 a share at $71.3 billion, with a new cash component. This agreement "is superior to the proposal" from Comcast made earlier this month, according to an unnamed representative speaking for Fox (via The Wall Street Journal)...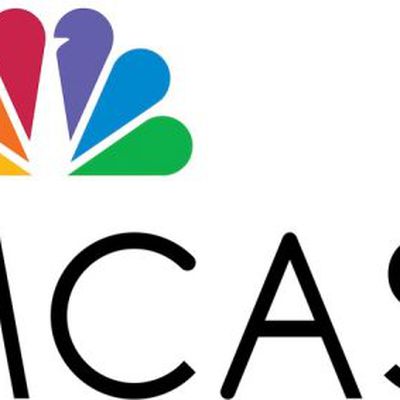 Just a day after a U.S. District Judge approved the upcoming merger between AT&T and Time Warner, Comcast has submitted a bid for 21st Century Fox's TV and film assets, reports CNBC. Comcast has presented Fox with an all-cash offer at $35 per share for a total of $65 billion, which beats out Disney's stock-based $52.4 billion deal. 21st Century Fox has already moved forward on a deal with...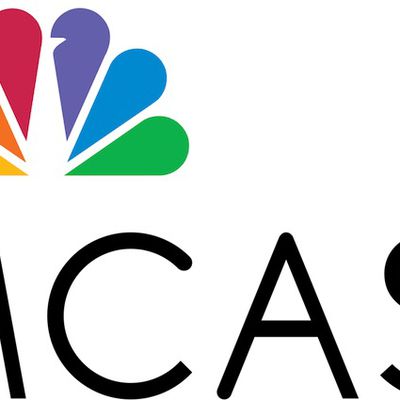 Last December, The Walt Disney Company outlined plans to acquire 21st Century Fox and a collection of its subsidiaries for $52.4 billion in stock. Those plans have been under regulatory scrutiny for months and have yet to be finalized, and now Comcast has confirmed it is in "advanced stages" of sending Fox a "superior" all-cash offer in hopes of besting Disney's all-share offer (via Bloomberg). ...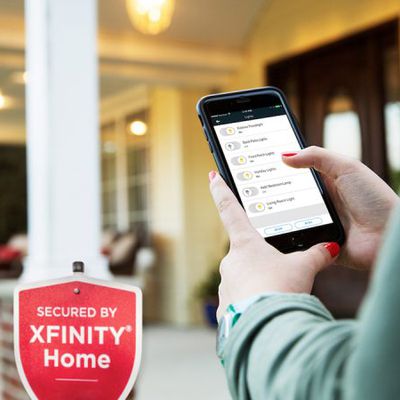 Comcast and Philips Lighting today announced a partnership that will introduce integration of Philips Hue directly into Comcast's home security system, Xfinity Home. With the update, Xfinity Home users will be able to control Hue bulbs directly within Comcast's Xfinity Home app [Direct Link], as well as create "rules" that synchronize Hue bulbs with the security system. For example, users will ...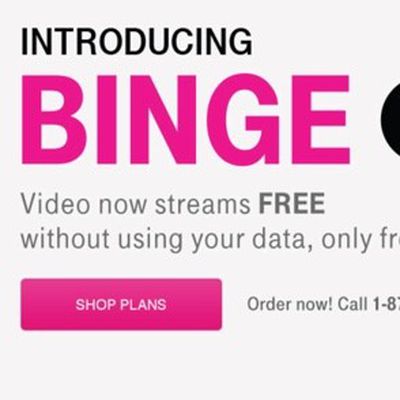 The United States Federal Communications Commission yesterday sent letters to T-Mobile, AT&T, and Comcast questioning the companies about mobile services that allow customers to access certain content without paying for the data usage, reports Bloomberg. While the FCC has been careful to note the inquiry is "not an investigation" and designed to help the FCC "stay informed as to what the...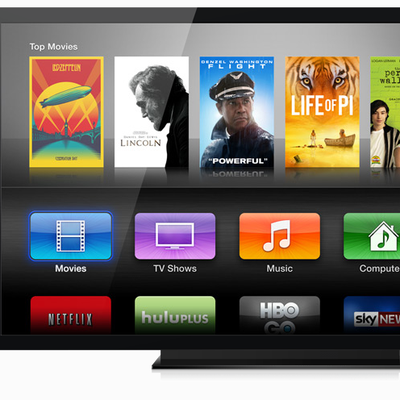 Over the past couple of weeks, rumors have leaked pointing towards an Apple-branded streaming television service that could include 25 channels for $30 to $40 per month with partners like CBS, ABC, and Fox. NBC and parent company Comcast are not part of the negotiations, and according to a new report from Re/code, that's because Apple has not approached Comcast about a partnership. Earlier...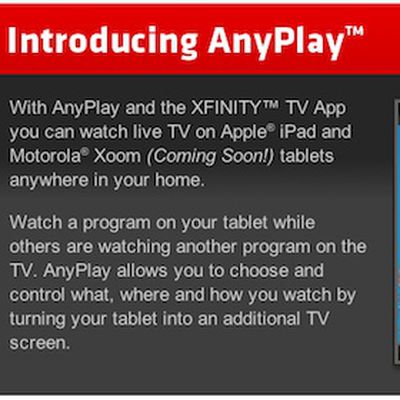 Back in September, we reported on a leaked document from cable and Internet provider Comcast revealing details on the company's forthcoming "AnyPlay" live television streaming service. While Comcast is not the first cable provider to bring such a product to market, it is the largest cable and Internet provider in the United States. Comcast today announced that it has begun rolling the AnyPla...