Comcast Working on iPad TV Streaming Service Called AnyPlay
Comcast, the United States' largest cable and internet provider, is working on a television streaming solution for iPads, to compete with Cablevision and Time Warner. The streaming product was announced earlier this year, but details haven't been released until now.
The product, called AnyPlay, allows Comcast subscribers to view live television on their iPad as long as it's connected to their home network; users must have a special Motorola box which, apparently, takes the live cable stream and sends it directly to the Xfinity TV iPad app over a local wireless network. The service won't work over Wi-Fi from other locations, or via 3G.
Update: Engadget believes the Motorola Televation cable TV-to-IPTV box is what Comcast will be using for AnyPlay.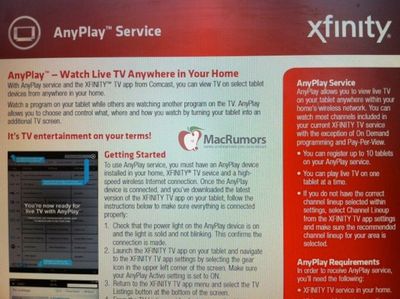 Other solutions, like Time Warner's, stream live video over an internet connection. Comcast's AnyPlay appears to be a cable box that sends video to the iPad rather than to a television. Users can watch "most" channels included with their Xfinity TV service. Users can register up to 10 tablets, but only watch live TV on one tablet at a time.
Currently, Xfinity customers can use the Xfinity TV app to watch On Demand programming, search TV listings, and schedule DVR recordings.
There is no indication of release dates or availability, but AnyPlay will be available in limited markets at first, and spreading to all Comcast customers eventually.
Comcast previously used the "AnyPlay" name on an announced but never released product with Panasonic in 2008.