AMD Announces New Mac Pro-Suitable Radeon HD 7970 Graphics Card
Earlier this month, we noted that developer builds of OS X 10.7.3 were showing evidence of AMD's forthcoming "Tahiti" graphics card family, the first to be built using 28-nanometer technology. The evidence suggested that Apple was at least preparing for the possibility of the cards being used in a Mac Pro update next year, an update that is reportedly still in question given uncertainty about the future of the line.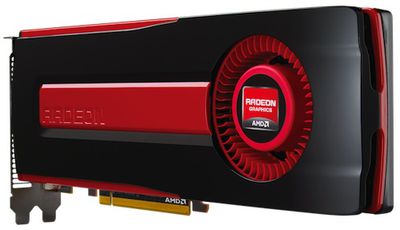 In the wake of those findings, AMD today officially announced the high-end Radeon HD 7970 from the Tahiti line, billing it as the world's fastest single-chip graphics card.
With the arrival of the AMD Radeon HD 7970, AMD has unleashed its revolutionary new Graphics Core Next Architecture that enables new levels of gaming and compute capabilities – realizing an improvement of over 150% in performance/sq mm over the prior generation. Engineered with support for PCI Express 3.0 and AMD CrossFire technology, the AMD Radeon HD 7970 graphics card arrives prepared for the next level of gaming.
Engadget has a nice roundup of reviews of the new card, with testers generally reporting significantly improved performance over the current generation of equivalent AMD cards and other high-end competitors such as NVIDIA's GeForce GTX 580. On the negative side, reviews cited the card's $549 price tag and significant noise under high load.
The Radeon HD 7970 will launch on January 9th, and AMD is also reported to be preparing to launch a slightly scaled-down model in the form of a Radeon HD 7950 card.
With new Xeon processors from Intel launching in the first quarter of 2012 and AMD's new graphics card offerings lining up for a January launch, parts do appear to be coming together for a significant upgrade for the Mac Pro, which has not been updated since July 2010. What remains to be seen is whether Apple will continue to invest in its professional-level workstation line.