Apple's Processor Options for Early 2012 Mac Pro Begin to Firm Up
Last week, we noted that Apple is unlikely to update its Mac Pro line until early next year at the soonest, as Intel's Sandy Bridge E processors intended as the successors to the current Mac Pro chips have been delayed until the first quarter of 2012.
Newly-released pricing information from CPU World now offers a bit more data to help analyze which of the new E5-2600 and E5-1600 series Xeon processors Apple is likely to use in the next-generation Mac Pro models.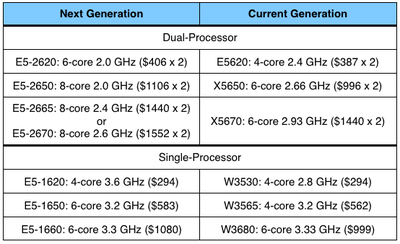 Apple's current dual-processor Mac Pro lineup utilizes Intel's "Westmere" processor family, with the E5620, X5650, and X5670 as options. Intel launched those processors last year priced at $387, $996, and $1440 respectively. With pricing for the upcoming E5-2600 series having been revealed, it certainly does appear that Apple will be able to use the $406 6-core 2.0 GHz E5-2620 in its low-end dual-processor configuration at or near the current $3499 pricing.
At the mid range, which is currently priced at $4999, the 8-core 2.0 GHz E5-2650 comes in $110 higher than the current E5650, a $220 difference when both processors are accounted for. Apple's options may be limited on this model, however, as stepping down in price would force Apple all the way down to the E5-2640 at $884, a 6-core chip running at 2.5 GHz.
The high end of Apple's dual-processor Mac Pro is also a bit murky, with each 8-core 2.6 GHz E5-2670 processor coming in at $1552, over $110 higher than the processors used in the current $5999 Mac Pro. Consequently, Apple could elect to instead use the 8-core 2.4 GHz E5-2665 processor, which is scheduled to carry a $1440 price tag at launch, sacrificing 200 MHz of clock speed to maintain pricing.
As for the lower-end single-processor Mac Pro configurations, Apple is likely to utilize Intel's E5-1600 series processor line, also scheduled for launch in the first quarter of 2012. Pricing on those chips was revealed last month, with the forthcoming quad-core 3.6 GHz E5-1620 ($294) and 6-core 3.2 GHz E5-1650 ($583) slotting nicely into the existing low- and mid-range pricing. At the high end of the single-processor line, however, Apple may have to bump up to the E5-1660 at $1080. The E5-1660 carries the same 6-core, 3.3 GHz specs as on the current high-end single-processor model, but offers higher turbo multipliers and L3 cache.