Apple Releases New Santa-Themed Ad for iPhone 4S and Siri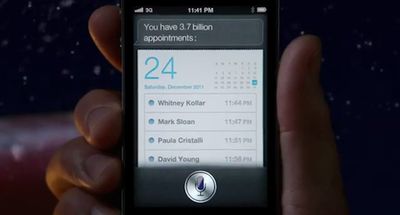 Apple today released a new commercial for the iPhone 4S ahead of the Christmas holiday, showing Santa using Siri to find such information as directions and weather, search for an email with his "naughty or nice" list, and hear an email from Mrs. Claus reminding him to "go easy on the cookies". Finally, Santa asks to check his schedule for the rest of the day, only to find out that he has 3.7 billion appointments.
Apple aired its first iPhone 4S ad
just after the device's debut
, and followed that with
three more commercials
at the very end of October. Today's new ad marks the first addition to Apple's iPhone 4S ads since that time.