Claimed iPad 3 Parts Continue to Leak as Rumored Release Draws Closer
As long ago as mid-July, the first claimed iPad 3 parts leaked with photos of a dock connector and ribbon cable. Since that time, at least one other claimed iPad 3 part in the form of a power button flex cable has also appeared.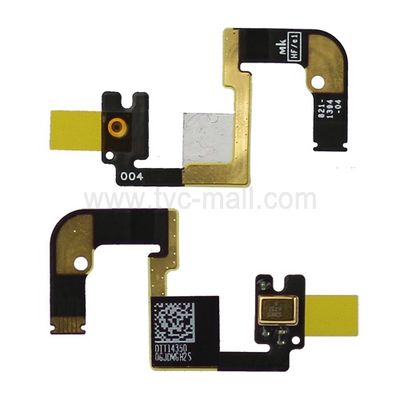 Claimed iPad 3 microphone flex cable
Cydia Blog notes
that a third iPad 3 part appears to have joined the leaks with the appearance of a microphone flex cable. All three parts are currently
available
through Chinese parts retailer TVC-Mall.com.
The new part, when compared with iPad 2, shows a different arrangement in internal circuitry, hinting a major re-design. The tail end of the part makes a "U-turn", whereas the iPad 2′s Microphone Mic Flex Cable makes almost 90-degree turn both ways. Except for few details, the leaked part so far doesn't offer a tantalizing tease.
But even major changes to the internal components of Apple's devices doesn't necessarily indicate significant changes to their overall appearance. For example, the internal design of many of the iPhone components changed with the introduction of the CDMA iPhone 4, which was actually a significant internal reworking of the GSM version. Most of those changes made for the CDMA iPhone 4 also made their way into the world-mode iPhone 4S without substantial differences among the three models visible from the exterior.
Apple's manufacturing partners are said to already be receiving display panels for the iPad 3, with an aim to begin assembly in January ahead of a launch in the following couple of months. The iPad 3 is said to offer a new "Retina" display offering twice the resolution of the current iPad in both the horizontal and vertical resolution, allowing for much sharper image quality.