Photos of Claimed 'iPad 3' Dock Connector in White Surface
Taiwanese site Apple.pro has posted [Google translation] photos of what is claimed to be the dock connector and ribbon cable for the next-generation iPad.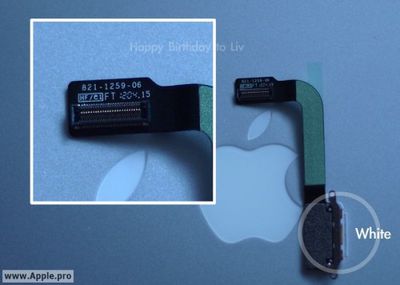 While the part is a proprietary but relatively standard one that provides no specific insight into the device's specs, one interesting observation is that the actual connector portion is white rather than the black color seen on the iPad 2. The dock connector on the iPad 2 is embedded in the curved aluminum shell of the iPad 2 and not the black or white bezel, and is in fact black on all models.
Consequently, it is possible that this white dock connector portends a modified case design in which the dock connector itself would be preferred to be white, as is found on white iPhone 4 models. The dock connector on the original iPad was white, however, despite the fact that the device came only in black and the connector was similarly embedded in the aluminum shell.


There are of course no guarantees that the part depicted in the photos is indeed a genuine dock connector for the iPad 3 as claimed, but the part carries a very similar form factor to the existing part and a part number updated from 821-1180-A in the iPad 2 to a newer 821-1259-06. The tail end of the ribbon cable also makes a 90-degree turn in the new part, whereas the iPad 2's dock connector ribbon cable is entirely straight.
Apple has been rumored to be introducing some sort of updated iPad in the fall timeframe, with most sources suggesting that it should be considered a "pro" or "plus" version of the existing iPad 2 carrying a higher-resolution display rather than a full-fledged iPad 3. But it is unclear from these posted photos whether the part is indeed claimed to be from the rumored "iPad 2 Pro" or an iPad 3 that would presumably make its debut in 2012.
Apple.pro has in the past posted photos of genuine Apple parts, most notably last year in the case of a small touchscreen that made its way into the redesigned iPod nano a few months later.