Microsoft Tackles iOS Gaming with 'Kinectimals'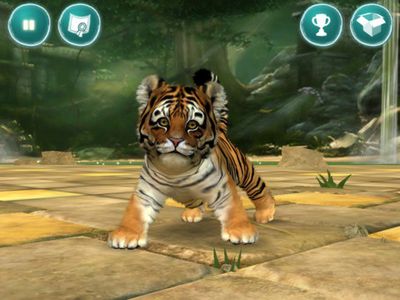 Microsoft today took a major step onto the iOS gaming platform with the release of Kinectimals. The game, which is aimed at children and involves interacting with virtual animals, debuted last year as an Xbox 360 game taking advantage of the Kinect motion-sensing control system.
This irresistible mobile experience gives you the chance to use your phone to visit the island of Lemuria and play with, care for and fall in love with your very own cub. Bring your pet with you wherever you go! If you've already experienced Kinectimals on Kinect for Xbox 360, your phone becomes the key to unlocking five new cubs on your console.
The release marks an interesting move for Microsoft, which has an established gaming brand with the Xbox/Kinect line and has been thought to be looking to use that leverage to promote its own Windows Phone platform. But Microsoft has been making a significant push into iOS gaming tie-ins over the past week, beginning with the My Xbox LIVE profile management app and Halo Waypoint companion app for the popular gaming franchise.
Beyond those new offerings, today's addition of Kinectimals signals an even more substantial investment in iOS by Microsoft, which has now proven willing to branch out from its own platforms to support games running directly on iOS devices.
Kinectimals is a universal iOS application for iPad, iPhone, and iPod touch, and is priced at $2.99 [App Store].