LG and Samsung Still Struggling with 'Retina' iPad 3 Display?
CNET reports that LG Display and Samsung are continuing to struggle with production of the display planned for the iPad 3 next year, with both companies trying to tackle the challenge of producing the display in volume. Sources have claimed that Apple is planning a 2048 x 1536 display for the device, double that of the current iPad in each dimension.
But whether manufacturers can make them in volumes that Apple demands is the question. "They have production plans for 2,048x1,536 displays. Starting in November. But those are only plans at this point," said the source, referring to LG and Samsung.

"It's not a question of making just one. That, of course, can be done. The challenge is making lots of them," the source said. "This is a quantum leap in pixel density. This hasn't been done before."
Some reports had suggested that Apple was hoping to release the iPad 3 late this year, but by August reports were suggesting that the launch had been pushed back to 2012, if it had ever been targeted for 2011 in the first place. Display production was identified as the major stumbling block at the time, but The Wall Street Journal had noted that trial production of the display was planned for October.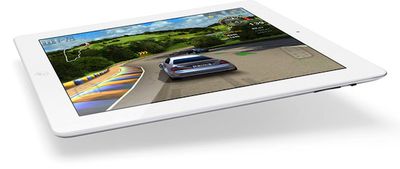 Curiously, CNET's report claims that Apple is also considering a 1600 x 1200 display as a fallback option for the iPad 3 if the higher-resolution display proves to not be ready in time. Such a move would seem to run counter to Apple's strategy for increasing display resolution, as it would not be a clean multiple of the current 1024 x 768 display and would thus cause issues for developers who have already produced apps for the current iPad models.
When Apple transitioned to the Retina display on the iPhone 4, it doubled each dimension of the previous 480 x 320 display to reach the new 960 x 640 resolution. That exact doubling in each dimension allowed the Retina-capable iPhone 4 to easily display content intended for the original lower-resolution display. Over time, many developers have updated their apps to specifically support the Retina display, providing higher-resolution graphics within their apps.