Next Generation iPhone (5,1) and iPad Also Referenced in iOS 5.1 Beta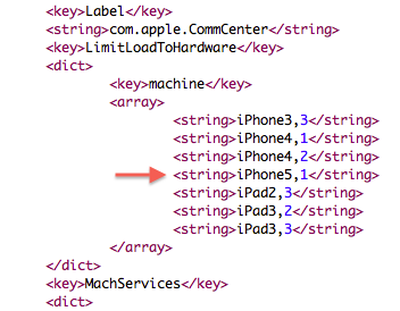 iOS 5.1 Beta
seems to be a treasure trove of product ids with the exposure of
the iPad 2,4
and the
J33 codename
for the next generation Apple TV. The latest part number to come from iOS 5.1 is the iPhone 5,1 as noted by both
@FilippoBiga
and
9to5Mac
.
The progression of iPhone product numbers are as follows:
iPhone1,1 - Original iPhone
iPhone1,2 - iPhone 3G
iPhone2,1 - iPhone 3GS
iPhone3,1 - iPhone 4
iPhone4,1 - iPhone 4S
iPhone5,1 clearly represents the next generation iPhone that Apple is working on. Rumors have suggested the next iPhone will carry a 4" screen rather than the usual 3.5" screen found in all previous iPhone models. The new iPhone is also believed to have been prototyped with a tapering design in the past, though the most recent rumors suggest the actual release iPhone will not resemble the mockups.
The iPad3,2 reference has been previously seen though iPad3,3 appears new.