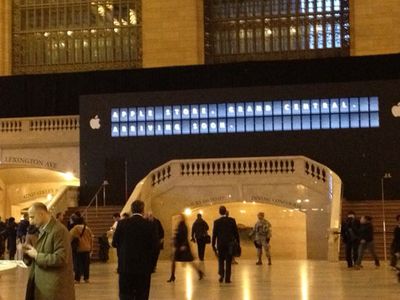 MacRumors readers Daniel (photo above) and Matthew let us know that Apple had posted a new digital sign overnight at the location of their upcoming Grand Central Station store. The sign reads "Apple Store, Grand Central. Arriving Soon."
There had been some reports suggesting an imminent launch, though construction workers have said there still is a lot to do that would push the opening into December.
Update: The New York Post reports that Apple is planning to open the new store on Friday, December 9th, but no official announcement has yet been made.
Update 2: techfootnote has posted a brief video showing the flipping animation on the new signage. Additional messages beyond the "Arriving Soon" note include "Grand Central Has Added Another Stop." and "Get Your Train(ing) Here."