App Store Updates: iPad Swiping, Chinese Yuan, Kindle Fire Added to Amazon Lawsuit
There have been several bits of App Store-related news over the past day, so here is a roundup of some of the more prominent items:
- iPad Swiping: As noted by MacStories, Apple has improved navigation of the iPad App Store, now allowing users to swipe between pages of featured apps and other listings. Users had previously needed to tap navigation arrows to move between pages, but moving to swipe-based navigation makes for a more natural interface and faster page changes.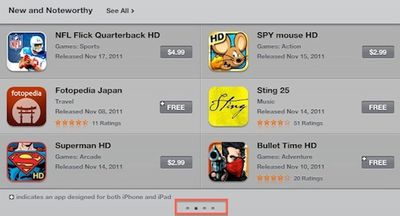 - Yuan Now Accepted in China: Penn Olson reports that Apple is now accepting renminbi, the local Chinese currency, for App Store purchases in China. With the new pricing in yuan, Chinese customers will no longer be required to make purchases funded by credit cards in U.S. dollars. Apple has also begun accepting payment via local bank cards, with customers able to top-up their iTunes Store accounts with prepaid amounts from their bank accounts to fund their App Store purchases.


- Kindle Fire Added to 'Amazon Appstore' Lawsuit: Despite the fact that Apple has not yet won a trademark registration on the term "App Store", it sued Amazon back in March over the company's use of the term in its Amazon Appstore for Android. A judge declined to issue a preliminary injunction against Amazon in July, and the full trial is not set to take place until October 2012.
With Amazon having just launched its new Kindle Fire tablet, Apple has expanded its lawsuit to address the fact that Amazon is promoting its "Appstore" in conjunction with the device. As reported by paidContent, Apple has also included new claims of false advertising in the lawsuit.
Apple's revised complaint is intended to show that Amazon has continued to use the "Appstore" term even in the face of Apple's prior claims of trademark infringement, hoping to establish a pattern of willful misrepresentation on Amazon's part leading to customer confusion over the app marketplaces. The courts and trademark examiners have yet to look favorably upon Apple's claims regarding "App Store" being an allowable trademark for the company, but it is clear that Apple is still trying to press its positions.