Settlement Reached in Lawsuit over Frayed MagSafe Connectors
Apple today posted a new support document outlining procedures users should follow if they experience strain relief problems with their "T" style MagSafe power cables on various notebook products. Long-standing issues with fraying on those cables resulted in Apple redesigning the MagSafe several years to adopt an "L" style connector that puts less strain on the cable.


While Apple has for several years offered a replacement program to users whose MagSafe adapters (as well as pre-MagSafe "barrel" style adapters) have exhibited signs of strain relief problems, the company has updated its support materials to reflect that a settlement has been reached in a court case over the design of the connectors.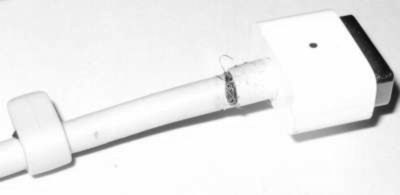 Frayed cable on "T" style MagSafe connector
According to the terms of the settlement, Apple will offer full or partial refunds to customers who purchased replacement adapters and will also continue to cover the cost of replacement adapters for users who have future problems with the issue. Apple will offer users who purchased a replacement adapter within one year of purchase of the original computer a $79 cash payment, with users who replaced their adapters in the second year receiving $50 and those who replaced in the third year $35.
The settlement will provide a cash payment if you are the original owner (by purchase or gift) of certain Apple MacBook or MacBook Pro computer models ("Subject Computer") or separately purchased an Apple 60W or 85W MagSafe MPM-1 ("T") Power Adapter ("Adapter"), your Adapter showed signs of Strain Relief Damage, and you purchased a Replacement Adapter within the first three years following the initial purchase of the Subject Computer or Adapter. If the court approves the settlement, you may be entitled to a cash payment in the following amounts depending on whether you purchased your Replacement Adapter during the first, second or third year following the initial retail purchase of the Subject Computer or Adapter: (a) first year, the actual amount you paid (excluding taxes and shipping/handling fees) up to a maximum of $79; (b) second year $50; (c) third year $35. There is a limit of three refunds per Subject Computer. You may also be able to obtain a Replacement Adapter at no charge from Apple if your Adapter shows signs of Strain Relief Damage now or in the future.
The settlement program is open to all purchasers of machines with T-style MagSafe power connectors who provide a valid claim form and proof of purchase for the replacement adapter. Users have until March 21, 2012 or three years from the date of original purchase, whichever is later, to file a claim for a previously-purchased replacement adapter. Apple will cover current and future replacements free of charge through December 31, 2012.