Sony Courting Aaron Sorkin to Write Screenplay for Steve Jobs Movie?
Earlier this month, Sony Pictures acquired the movie rights to Walter Isaacson's authorized biography of Steve Jobs, seeking to adapt the story for the big screen. Sony was viewed as being a good fit for the film, as the studio's Columbia Pictures arm had successfully transitioned the story of Facebook to film with last year's release of The Social Network.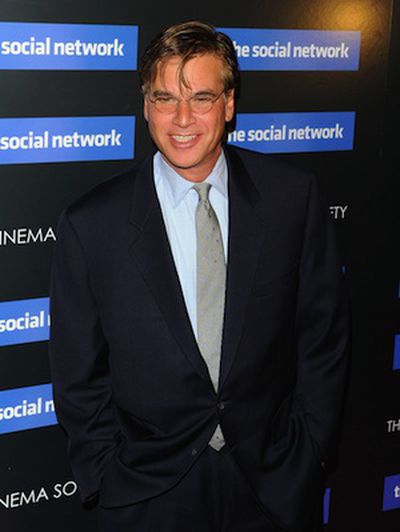 Aaron Sorkin
The writer behind
The Social Network
was Aaron Sorkin, who also gained fame for his work on
A Few Good Men
,
The West Wing
, and most recently
Moneyball
. And according to
The Los Angeles Times
, Sony is once again trying to
pair up with Sorkin
for the Steve Jobs screenplay.
Sony is moving forward with a Steve Jobs movie based on Isaacson's book. And one of the writers being courted by producers to pen his story, according to a person who was briefed on the project but not authorized to speak about it publicly, is Aaron Sorkin, Hollywood's chronicler-in-chief of the complicated visionary.

The "Moneyball" and "Social Network" writer was said by the person to be considering the prospect but had made no decisions. Sony and a Sorkin representative declined to comment on the writer's potential involvement.
Sorkin and Jobs actually did have a bit of history with each other, as Jobs had tried to convince Sorkin to write a film for Pixar, a proposal Sorkin declined because he didn't "think [he could] make inanimate objects talk."
STEVE: Once you make them talk they won't be inanimate.

ME: The truth is I don't know how to tell those stories. I have a young kid who loves Pixar movies and she'll turn cartwheels if I tell her I'm writing one and I don't want to disappoint her by writing the only bad movie in the history of Pixar.
A timeline for the potential Jobs movie is not yet firmed up, and casting is obviously still a ways off. Former ER star Noah Wyle, who played Jobs in the 1999 made-for-TV film Pirates of Silicon Valley, has expressed interest in reprising the role.
Are you kidding? I would give my eye teeth, in the heartbeat, of a New York minute. There are certain roles you wish you could tackle over and over again. That's one for me.
Isaacson's Steve Jobs experienced very strong pre-orders and early sales, and is headed toward the top of Amazon's list top-selling books for 2011, currently ranked #12.