Norah Jones and Coldplay Help Apple Celebrate Steve Jobs' Life [Aerial Video of Event]
Aerial footage (no audio) of Steve Jobs celebration (Source: CNET)
As we
noted earlier today
, Apple updated its Steve Jobs memorial site with remembrances of the company co-founder and CEO ahead of today's private celebration of Jobs' life held on Apple's campus in Cupertino, California. While the private event is closed to the media and the public, those in attendance have been sharing some details on the event and their thoughts, with many expressing the feeling that they are finally feeling a sense of closure with the event.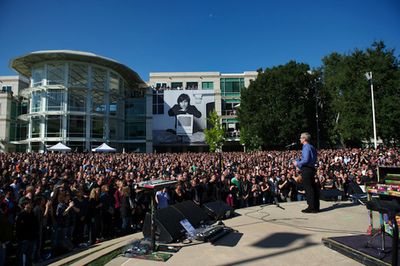 Tim Cook speaks at Apple's celebration of Steve Jobs' life (Source: Apple)
Twitter seems to be the medium of choice for attendees to share their experiences, and we've collected a few of the comments we've spotted there.
Wonderful speech by Tim. Wonderful speech by Bill Campbell. Wonderful performance by Norah Jones. This really helps bring closure.
An incredible and fitting celebration. Tears, laughter and some closure. #stevejobs
That was a really moving ceremony. Norah Jones, Coldplay, Al Gore... Got choked up when they played Steve reading "Here's to the Crazy Ones"