Apple Posts "Remembering Steve" Tributes from Fans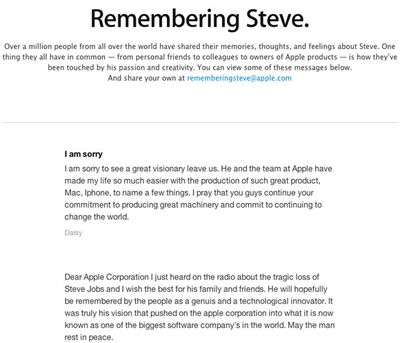 Apple has updated their Steve Jobs page on their site to reflect many memories, thoughts and feelings that people have submitted about Steve Jobs since his passing.
Over a million people from all over the world have shared their memories, thoughts, and feelings about Steve. One thing they all have in common — from personal friends to colleagues to owners of Apple products — is how they've been touched by his passion and creativity. You can view some of these messages below.

And share your own at rememberingsteve@apple.com
Apple reports that over a million people have already shared their thoughts. The company is still soliciting thoughts by email.
Steve Jobs has seen an outpouring of support and tributes since his passing on October 5th. Apple Stores around the world have turned into makeshift memorials as fans have left flowers and notes in his memory.
Jobs was 56 years old, and had been struggling with complications related to pancreatic cancer over the past several years. Apple will be holding a privatecompany wide celebration of Steve Jobs' life on Wednesday, October 19th. The event will take place on Apple's campus in Cupertino. Apple Retail stores will be closed for several hours during the event so that employees may view a live webcast of the service.