How Apple Approached Developing Siri's Personality
Many readers are now enjoying some of the quirkier responses coming from Siri, Apple's intelligent assistant built into the iPhone 4S. The Wall Street Journal spoke with one of the co-founders of the original Siri and how they approached instilling Siri with personality:
"There were many conversations within the team about whether it should be gender neutral" or "should have an 'attitude,' " said Mr. Winarsky, who didn't go to Apple, and still works at SRI. The result, before the software was bought by Apple, was "occasionally a light attitude," he said.
According to a different person who actually worked at Apple on the Siri project, Apple focused on keeping Siri's personality "friendly and humble -- but also with an edge". According to their source, they were thinking "How would we want a person to respond?" while developing the software.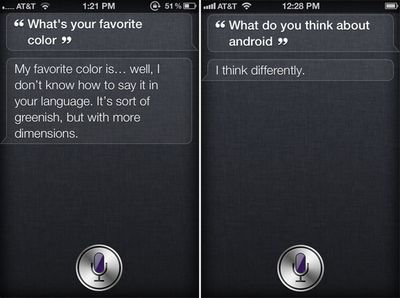 The Siri group is said to be one of the largest software teams at Apple and the crafted responses are to try to forge an emotional tie to customers. MacRumors forum readers are posting their favorite responses in this discussion thread.
Siri launched as an exclusive feature for the iPhone 4S and allows users to speak questions and requests directly to their iPhone.