First iPhone 4S Image Sensor to Be Identified Comes from Sony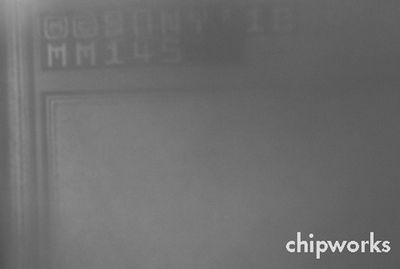 Sony markings on iPhone 4S camera sensor die
While iFixit performed the first
thorough teardown
of the iPhone 4S yesterday, Chipworks has now turned its more powerful equipment on the chips themselves, notably
identifying Sony
as the manufacturer of the 8-megapixel camera sensor in the first iPhone 4S they examined.
In order to get our readers the device manufacturer as soon as possible, rather than going through a fuming sulfuric acid chip deprocessing we chose to use our infrared microscope to look through the structure of this image sensor. What you see are the die markings on the base layer of the image sensor. The image isn't beautiful, but it's enough to tell us that Sony is in our particular iPhone 4S.
OmniVision has historically been the supplier for the image sensor in the iPhone, but comments from Sony CEO Howard Stringer earlier this year started rumors that Sony might take over production for the iPhone 4S. Later reports had said the two companies would be splitting the load with OmniVision handling up to 90% of production, but issues at OmniVision were later said to have led to Apple shifting orders to Sony. Weak financial guidance from OmniVision further fueled rumors that it had lost at least a substantial portion of the iPhone business.
As Chipworks notes, a single test unit is not sufficient to establish the balance of production should Apple be employing a dual-supplier solution for the iPhone 4S camera sensor. But Sony is at least involved in production this time around, and additional results should give a better picture of where Apple's orders have fallen.