iPhone 4S Teardown: New Qualcomm MDM6610 Baseband Chip, 512 MB RAM Confirmed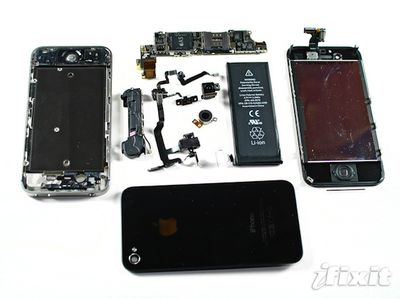 iFixit has already begun a high-quality teardown of the iPhone 4S, and while a considerable number of the internal parts have already been seen in leaked parts prior to the device's launch, a more thorough look at the individual components should provide some interesting details on the device.
The teardown is still just getting underway, with iFixit's technicians having opened up the device, examined the battery and pulled out the logic board, but we'll update this post with additional information as the teardown progresses.
Items of interest:
- The baseband chip is a previously-undisclosed Qualcomm MDM6610, an apparent variation of the MDM6600 used in the CDMA iPhone 4 and other devices. It is unclear at this time what differentiates the MDM6610 from the MDM6600.
- As noted by AnandTech, the part number found on the A5 chip in iFixit's teardown confirms earlier claims that the iPhone 4S carries 512 MB of RAM.
- iFixit confirms that the iPhone 4S uses the linear oscillating vibrator motor as found in the CDMA iPhone 4 rather than the rotational motor found in the GSM iPhone 4. As seen in earlier parts images, the entire internal layout of the iPhone 4S is much more like the CDMA iPhone 4 than the GSM iPhone 4, although Apple obviously had to tweak the chip layout somewhat to squeeze the micro-SIM slot onto the logic board. One exception is the display assembly mounting tabs, which follow the GSM iPhone 4's layout rather than the CDMA version's.
- Chipworks is following along with iFixit's teardown and providing a closer look at the chips discovered inside the iPhone 4S. Many of the chips had already been found in other devices, and Chipworks publishing die photos and other details on them as the information is gathered.