'iTunes in the Cloud' Rolling Out Internationally
One of the iCloud features launched immediately in the United States upon the service's announcement back in June was "iTunes in the Cloud", offering users the ability to re-download music previously purchased from the iTunes Store to any registered device. The service allows users to forgo storing their entire iTunes-purchased music library on every device and only download tracks to a given device as needed.
With the full iCloud service set to launch today, we have begun receiving reports from international users that iTunes in the Cloud has already begun going live for them. Reports have come in from Canada and the United Kingdom so far, but it is unclear whether additional countries will be included in the initial round of launches.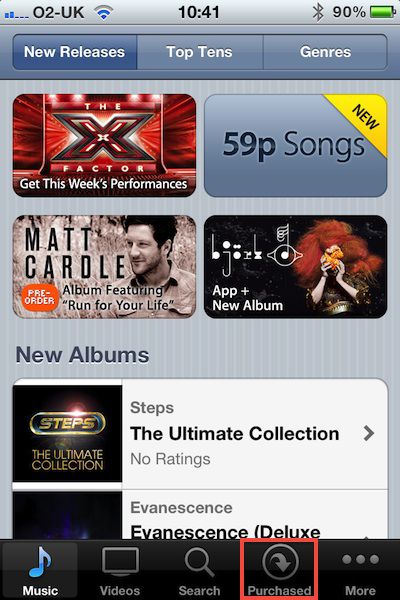 UK iTunes Store with new "Purchased" tab
The changes add a "Purchased" tab to the iTunes Store app in iOS, offering users access to an iCloud-hosted list of all of their purchased tracks, allowing for easy download. iTunes in the Cloud also supports automatic downloads, allowing users to purchase content on one device and have it automatically appear on other devices associated with the user's account.
Apple had reportedly been working hard to secure international iCloud music rights in time for last week's iPhone 4S media event, with sources indicating that Apple had indeed secured such agreements by that date, with the UK set to see the first expansion of the service in Europe.
Update: We've now received reports of iTunes in the Cloud being live from the following additional countries: Australia, France, Ireland, Mexico, Netherlands, and Spain.