Steve Jobs' Funeral Today, No Public Memorial Event Planned
The Wall Street Journal reports that Steve Jobs' funeral, a "small private gathering", is taking place today, two days after Jobs passed away at the age of 56.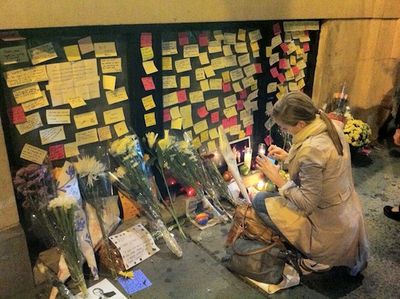 Tributes to Steve Jobs at Apple's SoHo retail store in Manhattan (Thanks, Chris)
While neither Apple nor the Jobs family is planning a public memorial service, Apple CEO Tim Cook noted in his email to company employees on Wednesday, that Apple will hold an event for Apple staff to celebrate Jobs' life.
There is no public memorial planned for Mr. Jobs's death, said an Apple spokesman.

In a letter to Apple's employees on Wednesday, Apple Chief Executive Tim Cook said that the company is "planning a celebration of Steve's extraordinary life" for staff that will take place soon.
Fans of Apple and Steve Jobs have of course taken memorial services into their own hands, setting up impromptu displays of flowers, messages, and other items at Apple retail stores around the world.