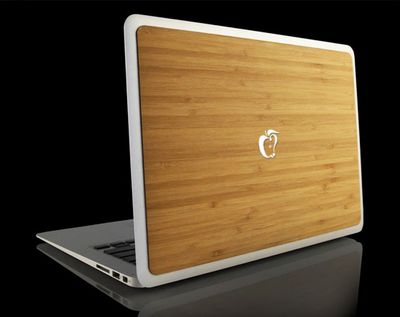 Grove makes a number of bamboo cases for iPhones and iPads. Now the company is introducing super-thin (.035") bamboo plates that attach to the back of unibody MacBooks of nearly any shape and size (11", 13", 15", 17").
Grove also offers laser cutouts of a wide variety of shapes that are placed directly behind the glowing Apple logo, allowing users to personalize their laptops even further. The company will even do custom engravings for orders of 10 or more, allowing companies to have their own logos etched.
Kelly Guimont at TUAW writes:

I've seen these in person, and my initial impressions are all favorable. I saw one applied and removed and it pops off flawlessly. They really are thin, and they look really nice once installed. I also got to see a few of the logos in person and they are all wonderful.
The Bamboo Backs are made by Grove in-house in Portland, Oregon. They'll sell for $29 and ship in 1-2 weeks.