Apple Issues Invitations for October 4th iPhone Media Event
Confirming earlier reports, Apple today issued media invitations for a special iPhone event to be held next Tuesday, October 4th at the company's Town Hall auditorium at its headquarters in Cupertino, California. The event is scheduled to begin at 10:00 AM Pacific Time.
As noted by The Loop, invitations for the event carry the tagline "Let's talk iPhone" and depict iOS icons for Calendar, Clock, Maps, and Phone.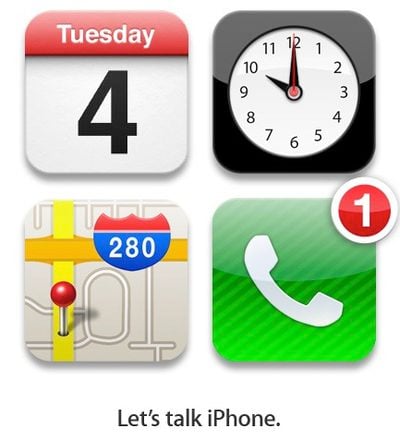 Apple is of course widely expected to introduce its next-generation hardware (whether it be iPhone 4S, iPhone 5, or both) at the event, and is expected to also be including a minor update to its iPod line. iOS 5 and iCloud are also expected to be topics of discussion at the event, while other reports have indicated that Facebook may launch its iPad app at the event.