Apple to Wipe iTunes Match iCloud Data on Sept 26th, GM to Follow?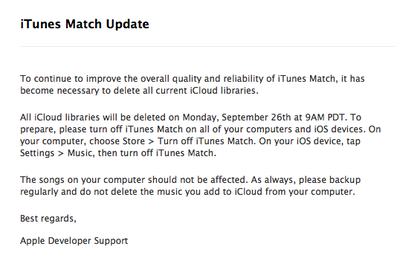 Apple has sent an email to developers notifying them that their iCloud libraries housing iTunes Match data will be wiped on Monday, September 26th at 9AM PDT. The reason for the wipe is to "improve the overall quality and reliability" of the service. The news comes after Apple wiped all the iCloud backup data on Thursday, September 22nd.
We believe these are preparations for Apple to launch the final Golden Master (GM) version of iOS 5. Apple had been planning to declare iOS 5 as GM on Friday, September 23rd, though we haven't heard confirmation yet if that had actually taken place. Also on schedule was to start installing iOS 5 GM onto new devices in their factories on Monday, September 26th. Assuming all this has remained on schedule, we expect the final GM version of iOS 5 to be release to developers as early as next week.
iCloud and iTunes Match services have been running in developer beta for the last couple of months. The public release is scheduled for "Fall", and it seems likely Apple will announce the ship date at their rumored October 4th media event.