New Photo Confirms Partially Assembled iPhone 4S
Earlier today, we noted that a new leaked photo appearing to be a partially-assembled next-generation iPhone seemed to be showing an "iPhone 4S" design running on an A5 system-on-a-chip.
MacPost now shares a photo of the other side of the partial device, revealing that it is indeed an iPhone 4-like design. The new photo even shows the iPhone 4S turned on in its partially assembled state, requesting connection to iTunes for activation.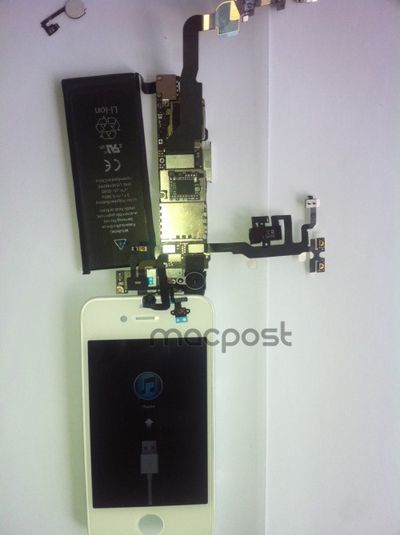 The new photo also clarifies the battery situation, revealing it to still be a 3.7 V, 5.3 Whr battery delivering 1430 mAh of charge, compared to the slightly lower-capacity 1420 mAh battery found in the iPhone 4. The 4.2 V figure spotted on the original photo posted earlier today was from the backside of the battery and appears to have been referring to the maximum charge voltage, as opposed to the 3.7 V nominal voltage under load.
Apple has also been rumored to be introducing a substantially redesigned iPhone 5 alongside this iPhone 4S, although there has been little concrete evidence of such a device showing up in parts leaks or supply chain channel checks. Third-party cases for the rumored iPhone 5 appear to show a substantially larger but thinner design than found in the iPhone 4.
Update: High resolution version of photo from Pandaxtech which appears to be the source for the images.